Districts:
West Oxfordshire Parishes
Wootton
This map highlights the landscape types within the parish you selected, and its associated local character areas. You can click on any area of the map for a description of its landscape character and biodiversity. Please note that local character areas can cover large areas of the countryside, and may include several parishes, so the description may not be specific to this parish. If there are any wildlife habitats within the parish their descriptions can be found by scrolling to the bottom of this page.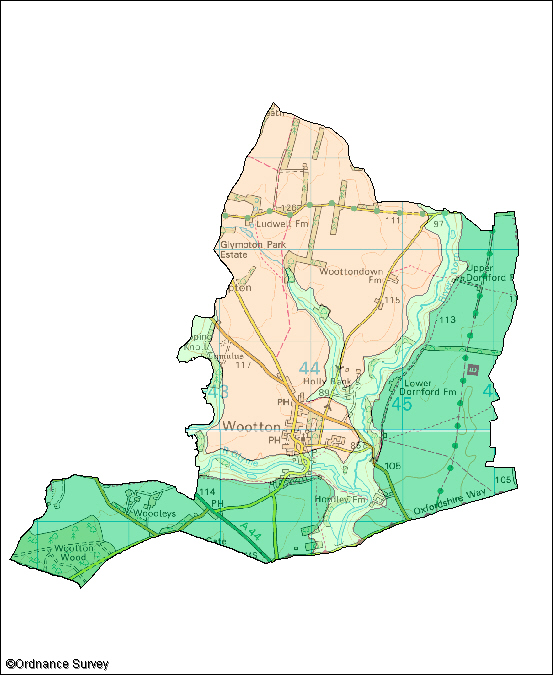 The following wildlife habitats fall within this parish. They are listed according to their associated landscape type or local character area.
If you want more information about any of the sites of special scientific interest (SSSIs) listed below, take a look at English Nature's Nature on the Map website. It may also be possible to find out a bit more about the unnamed wildlife habitats in the parish by contacting the Thames Valley Environmental Records Centre (owls@oxfordshire.gov.uk) and quoting the site code next to the habitat description.
The majority of these wildlife habitats are on private land and access to them is not possible without permission of the landowner, unless there is a statutory right of way. However, many wildlife habitats in the county are open to the public. More information on these can be obtained from the Oxfordshire Nature Conservation Forum.

Wildlife Habitats
Wooded Estatelands
Site Code: 41E01
Area: 91.3ha
This site is a large area of ancient woodland which means the site has been continuously wooded at least since 1600AD. Large parts of the woods have been replanted with conifers, sweet chestnut and beech but there are good areas of old broadleaved woodland with oak, ash and hazel coppice. Such woodland is a national nature conservation priority. There are large grassy open areas known as lawns and wide grassy tracks.
In the woodland there are carpets of bluebells and other woodland wildflowers such as primrose and wood anemone. On the lawns and rides there is a mixture of woodland and grassland wildflowers including a large population of the uncommon meadow saffron (also known as autumn crocus), early purple orchid, lady's mantle and greater butterfly orchid. A good variety of birds have been seen here including bullfinch, woodcock and marsh tit.
Wooded Pasture Valleys and Slopes
Site Code: 41P03/6
Area: 1.8ha
Long Meadow, Wootton
This site consists of a meadow and bank next to the Glyme near Wootton. It is owned and managed by the Wootton Conservation Trust who have also purchased more meadows and banks to the north. The bank has limestone grassland, which is a national priority for nature conservation, as well as areas of scrub. The meadow is not particularly rich in species but has some remnants of old traditionally managed grassland.
The bank has a good variety of limestone grassland species including salad burnet, cowslip, small scabious and hairy violet as well as the colourful purple flowered knapweeds. In the meadow pepper saxifrage and water avens can be seen. A number of rare insects have been recorded here as well as bullfinch, which is a national nature conservation priority due to the declines in its population.
Site Code: 41J13/1
Area: 7.8ha
This site consists of a bank of limestone grassland along the Glyme Valley and two marshes with tall wetland vegetation next to the river. Both habitats are national nature conservation priorities.
On the limestone bank harebell, autumn gentian and pyramidal orchids can be seen. The marshes are at the bottom of the bank and, amongst the tall sedges and rushes, wetland wildflowers including meadow rue, common valerian, meadowsweet and fen bedstraw can be seen.


Site Code: 42K02
Area: 5.1ha
Sheep's Bank SSSI
Sheep's Bank is a bank of limestone grassland, a habitat now mainly restricted to steeper sites such as this. Typically for limestone grassland there is a rich variety of small and often colourful wildflowers. These include wild thyme, centaury, yellow-wort, clustered bellflower and five species of orchids. Limestone grassland is a national priority for nature conservation.