Districts:
West Oxfordshire Parishes
Taynton
This map highlights the landscape types within the parish you selected, and its associated local character areas. You can click on any area of the map for a description of its landscape character and biodiversity. Please note that local character areas can cover large areas of the countryside, and may include several parishes, so the description may not be specific to this parish. If there are any wildlife habitats within the parish their descriptions can be found by scrolling to the bottom of this page.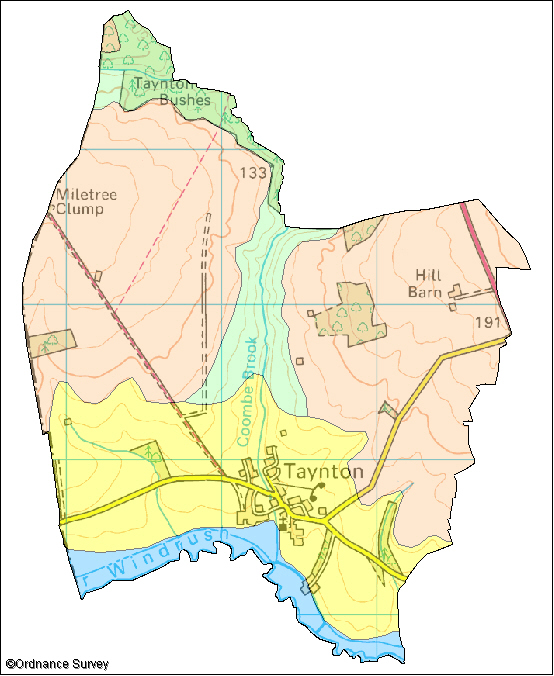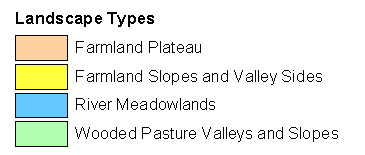 The following wildlife habitats fall within this parish. They are listed according to their associated landscape type or local character area.
If you want more information about any of the sites of special scientific interest (SSSIs) listed below, take a look at English Nature's Nature on the Map website. It may also be possible to find out a bit more about the unnamed wildlife habitats in the parish by contacting the Thames Valley Environmental Records Centre (owls@oxfordshire.gov.uk) and quoting the site code next to the habitat description.
The majority of these wildlife habitats are on private land and access to them is not possible without permission of the landowner, unless there is a statutory right of way. However, many wildlife habitats in the county are open to the public. More information on these can be obtained from the Oxfordshire Nature Conservation Forum.
Wildlife Habitats
Farmland Plateau
Site Code: 21H01/2
Grid Ref: SP235150
Area: 41.1 ha
Taynton Quarries SSSI
Taynton Quarries are a fine example of the importance of disused quarries for wildlife. The site has been quarried for many centuries and it is mentioned in the Doomsday Book. Areas have been abandoned at different times during its history and these have been colonised by limestone grassland, which is a national priority for nature conservation. The small valley of the Coombe Brook forms the western edge of the site and a series of springs are found here. Fen habitat, another national priority for nature conservation due to its rarity, is found along the valley bottom.
The grassland has many wildflowers including green-winged and bee orchids, the uncommon early gentian and basil thyme. The fen area has wildflowers such as marsh marigold, gypsywort and water mint. Sedge warbler and kingfisher can be seen along the stream. Numerous uncommon insects and other invertebrates have been recorded here including chalkhill blue butterflies.
Site Code: 21M01
Area: 0.25ha
This site is a small old quarry. Although largely scrubbed over, the quarry has a small area of limestone grassland which is a national priority for nature conservation. The grassland is rich in wildflowers including the rare purple milk vetch which is declining in numbers in the Cotswolds. Other wildflowers include horseshoe vetch, fairy flax, salad burnet, rock rose, and the colourful greater knapweed which is commonly seen on road verges in the area.
Although small, the site does not lie in complete isolation as there is a road verge nature reserve with limestone grassland close by.

Wooded Pasture Valleys and Slopes
Site Code: 21I01
Area: 48.4ha
This site is an extensive area of species rich ancient woodland. Sites that have been continuously wooded since 1600AD are classed as ancient. Broadleaved ancient woodland is a national nature conservation priority.
A large part of the wood has mature ash and oak trees. The shrubs are a sparse mix of hazel, blackthorn, hawthorn and elder. The woodland floor is covered by a good variety of woodland wildflowers. Typically for ancient woodland, dog's mercury and bluebells are abundant. Wood sorrel, primrose, enchanter's nightshade and scaly male-fern can be seen here. In wetter areas rushes, water figwort and brooklime can be found. Some areas have been replanted with conifers and here few wildflowers can be seen.