Districts:
West Oxfordshire Parishes
Stonesfield
This map highlights the landscape types within the parish you selected, and its associated local character areas. You can click on any area of the map for a description of its landscape character and biodiversity. Please note that local character areas can cover large areas of the countryside, and may include several parishes, so the description may not be specific to this parish. If there are any wildlife habitats within the parish their descriptions can be found by scrolling to the bottom of this page.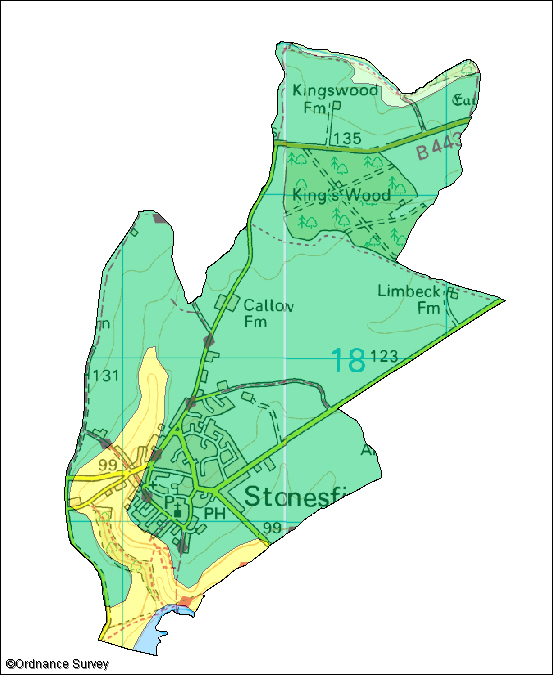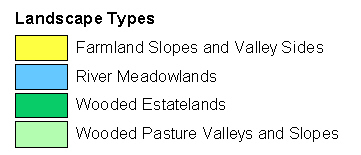 The following wildlife habitats fall within this parish. They are listed according to their associated landscape type or local character area.
If you want more information about any of the sites of special scientific interest (SSSIs) listed below, take a look at English Nature's Nature on the Map website. It may also be possible to find out a bit more about the unnamed wildlife habitats in the parish by contacting the Thames Valley Environmental Records Centre (owls@oxfordshire.gov.uk) and quoting the site code next to the habitat description.
The majority of these wildlife habitats are on private land and access to them is not possible without permission of the landowner, unless there is a statutory right of way. However, many wildlife habitats in the county are open to the public. More information on these can be obtained from the Oxfordshire Nature Conservation Forum.

Wildlife Habitats
Farmland Slopes and Valley Sides
Site Code: 31Y02/2
Area: 0.76ha
Stonesfield Slate Mines SSSI
The four slate mines in the Stonesfield area are very important geological sites. The mining has left exposures of rocks laid down over millions of years, which are of great value in the understanding of geological history.
The fossils found within these exposures make this the richest site for vertebrate fossils in the world. The first dinosaur ever to be recognised was found here. It has also yielded fossils of prehistoric mammals, insects and plants.
Site Code: 31Y01

Area: 27.5ha
Stonesfield Common, Bottom and Banks SSSI
This site is a mixture of grassland, woodland and scrub habitats on steep banks just south of Stonesfield and includes the more gently sloping Stonesfield Common. The limestone grassland that is found here is typical of steep banks in the Cotswolds and this is one of the largest examples in Oxfordshire. Limestone grassland is a national nature conservation priority.
A good range of wildflowers can be seen in the grassland including bee orchid, green-winged orchid and cowslip. Uncommon species include wild liquorice, basil thyme and bastard toadflax. On Stockey Bottom there are spoil heaps where red hemp-nettle is found. This species is now very rare and is a national priority for nature conservation. There are good populations of the uncommon small blue and marbled white butterflies.
The site includes an area of beech and wych elm woodland known as Stockey Plantation. Although not ancient woodland it is long established and includes a good variety of woodland wildflowers including toothwort, spurge laurel and yellow archangel. There are also patches of hawthorn and blackthorn scrub on some of the banks.