Districts:
West Oxfordshire Parishes
Spelsbury
This map highlights the landscape types within the parish you selected, and its associated local character areas. You can click on any area of the map for a description of its landscape character and biodiversity. Please note that local character areas can cover large areas of the countryside, and may include several parishes, so the description may not be specific to this parish. If there are any wildlife habitats within the parish their descriptions can be found by scrolling to the bottom of this page.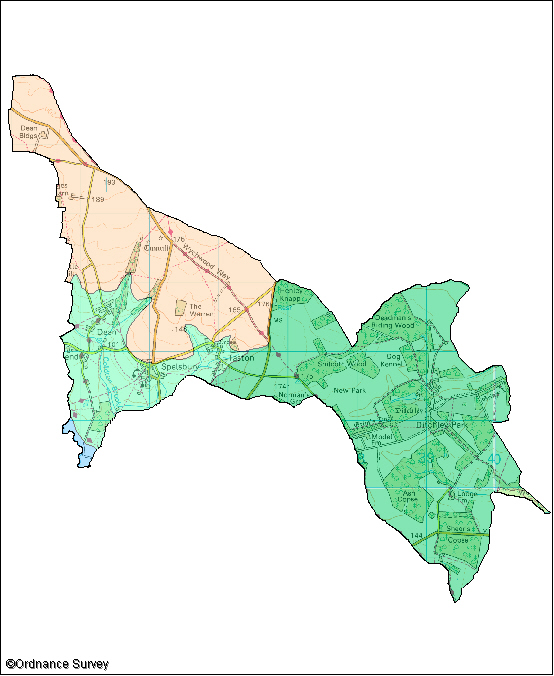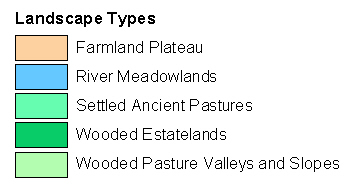 The following wildlife habitats fall within this parish. They are listed according to their associated landscape type or local character area.
If you want more information about any of the sites of special scientific interest (SSSIs) listed below, take a look at English Nature's Nature on the Map website. It may also be possible to find out a bit more about the unnamed wildlife habitats in the parish by contacting the Thames Valley Environmental Records Centre (owls@oxfordshire.gov.uk) and quoting the site code next to the habitat description.
The majority of these wildlife habitats are on private land and access to them is not possible without permission of the landowner, unless there is a statutory right of way. However, many wildlife habitats in the county are open to the public. More information on these can be obtained from the Oxfordshire Nature Conservation Forum.
Wildlife Habitats
River Meadowlands
Site Code: 32K01
Area: 6ha
This meadow has not been treated with herbicides or fertilizers and has not been ploughed and reseeded and thus has a rich variety of wildflowers. Such meadows are uncommon these days and this habitat is a national priority for nature conservation.
Wildflowers that can be seen here include lady's mantle and pepper saxifrage along with the more common and colourful oxeye daisy, bird's-foot trefoil and common knapweed. The presence of salad burnet indicates lime rich soils. The hedges are species rich with holly, spindle and hazel as well as large old ash and oak trees.

Settled Ancient pastures
Site Code: 32L03
Area: 19.4ha
This site is a mixture of planted woodland and fields with marshy springs. The woodland was planted on limestone grassland and there are a few glades where this habitat remains. This area has a particularly good variety of birds including green woodpecker and six species of tit.
Site Code: 32K21
Area: 9.3ha
This site is ancient woodland which means it has been continuously wooded since 1600AD. It has a canopy of oak and ash with some field maple and old hazel coppice in the shrub layer. Broadleaved woodland such as this is a national priority for nature conservation.
There is a rich variety of woodland wildflowers including bluebells, wood anemone, common dog violet and primrose. Common spotted orchids are found along a lane on the western edge of the wood. There are also ponds and damp areas with wetland wildflowers. A good variety of birds are found here including marsh tit, treecreeper and buzzard.
Site Code: 32K08
Area: 2.4ha
This site consists of two meadows along the Couldren Brook. These meadows are unimproved which means they have not been treated with fertilizers or herbicides and have not been ploughed and reseeded. This means they have a rich flora. Such meadows are now an uncommon sight and are a national nature conservation priority.
Wildflowers found here include great burnet, lady's mantle and marsh bedstraw. There are is a wet area with tall reed grass and sedges. At the edge of the meadow, next to a wood, woodland wildflowers such as wood sorrel, wood anemone and primrose can be seen.
Site Code: 32K05
Area: 3ha
This site consists of part of a valley near Spelsbury with wet marshy habitat and banks of dry rough grassland. The marshy areas are found where spring rise near the valley bottom forming flushes where the water spreads over the surface. These are dominated by rushes and sedges and have wetland wildflowers including common spotted and southern marsh orchids, marsh marigold and ragged robin. Such habitat is a national nature conservation priority.
One of the springs has tall wetland vegetation with giant horsetail. The drier grassland has some remnants of limestone and flower rich neutral grassland with wildflowers such as salad burnet, dropwort, betony and cowslip.
Wooded Estatelands
Site Code: 32Q06
Area: 2.1ha
Salt Way, Ditchley SSSI
This is a section of the ancient trackway known as the Saltway. There are a number of tracks with the same name and they were important routes for transporting salt in Roman times.
The site supports the largest UK population of the very rare downy woundwort. This species is now found only in a few sites in West Oxfordshire. Downy woundwort is a national priority for nature conservation and is protected under the Wildlife and Countryside Act 1981. It is found within bare areas in limestone grassland on the track verges. The rest of the Saltway in this area is a County Wildlife Site (see separate citation).
Site Code: 32Q01
Area: 2.5ha
This meadow is a gentle sloping and is cut for hay. It has limestone grassland and is unusual because this habitat is mainly restricted to steeper banks but here the site is much flatter. The soils are quite deep so the vegetation is a mixture of limestone species and species of lowland meadows on neutral soils. Most fields of this type have been agriculturally improved but this has escaped the use of fertilizers or herbicides and has not been ploughed and reseeded. Limestone grassland is a national nature conservation priority.
The meadow is particularly important for the presence of meadow clary a rare plant that is protected under the Wildlife and Countryside Act 1981. Most sites are found in this part of the Cotswolds. Wildflowers found here include pyramidal orchid, the parasitic common broomrape, common spotted orchid and cowslip as well as colourful more common plants such as meadow crane's-bill, field scabious and common knapweed.
Site Code: 32Q06
Area: 4.5ha
This site is an ancient trackway that derives its name from its importance for transporting salt during Roman times. There are areas of limestone grassland along the track which is bounded by ancient species rich hedgerows. Both habitats are national nature conservation priorities.
Meadow clary is found towards the north of the site. This rare colourful wildflower is protected under the Wildlife and Countryside Act 1981 and most locations are found in this part of the Cotswolds. Other wildflowers present include rock rose, meadow crane's-bill hairy violet and the uncommon cat-mint.