Districts:
West Oxfordshire Parishes
Little Tew
This map highlights the landscape types within the parish you selected, and its associated local character areas. You can click on any area of the map for a description of its landscape character and biodiversity. Please note that local character areas can cover large areas of the countryside, and may include several parishes, so the description may not be specific to this parish. If there are any wildlife habitats within the parish their descriptions can be found by scrolling to the bottom of this page.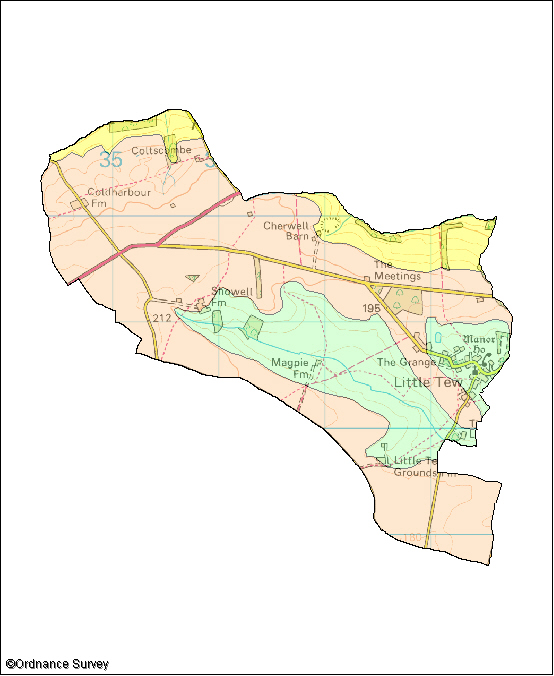 The following wildlife habitats fall within this parish. They are listed according to their associated landscape type or local character area.
If you want more information about any of the sites of special scientific interest (SSSIs) listed below, take a look at English Nature's Nature on the Map website. It may also be possible to find out a bit more about the unnamed wildlife habitats in the parish by contacting the Thames Valley Environmental Records Centre (owls@oxfordshire.gov.uk) and quoting the site code next to the habitat description.
The majority of these wildlife habitats are on private land and access to them is not possible without permission of the landowner, unless there is a statutory right of way. However, many wildlife habitats in the county are open to the public. More information on these can be obtained from the Oxfordshire Nature Conservation Forum.
Wildlife Habitats
Farmland Slopes and Valley Sides
Site Code: 32U15
Area: 32.4ha
This site lies along a valley and supports a mixture of habitats. There are banks of neutral and limestone grassland with wet marshy areas called flushes where springs rise. The neutral grassland is the more acidic type which is seen along many of the valleys in North Oxfordshire. There are areas of old planted woodland and wet alder and willow woodland along a stream that flows through the valley. The grassland, flushes and wet woodland are national priorities for nature conservation.
Wildflowers found in the grassland include common spotted orchid, betony, pignut and restharrow. The tall giant horsetail, which has something of a primeval appearance, is found in the wet flushes. In the woodland more pignut, bluebells, sanicle and red campion can be seen. There are old records for the uncommon herb Paris.
Wooded Pasture Valleys and Slopes
Site Code: 32U14
Area: 40ha
Little Tew Meadows SSSI
The meadows at Little Tew are a large area of flower rich grassland. This is because they escaped modern agricultural improvement through the use of herbicides and fertilizers or through ploughing and reseeding. Some of the meadows have ridges and furrows which is a sign of medieval ploughing and this is an important historic landscape feature. Meadows such as this are a national nature conservation priority.
The meadows have a good range of wildflowers including the unusual adder's-tongue fern, lady's mantle, dropwort, meadow saxifrage and betony. There are a number of springs in the fields and the water spreads over the surface forming marshy flushes. Here wetland wildflowers such as ragged robin can be seen. These areas attract snipe in the winter and reed bunting, a national nature conservation priority species, nests in the taller wetland vegetation.