Districts:
West Oxfordshire Parishes
Aston, Cote, Shifford and Chimney
This map highlights the landscape types within the parish you selected, and its associated local character areas. You can click on any area of the map for a description of its landscape character and biodiversity. Please note that local character areas can cover large areas of the countryside, and may include several parishes, so the description may not be specific to this parish. If there are any wildlife habitats within the parish their descriptions can be found by scrolling to the bottom of this page.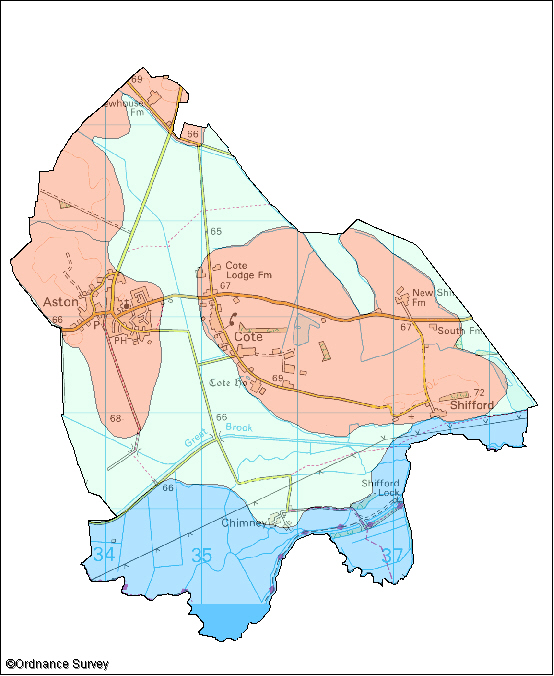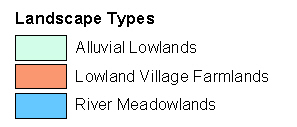 The following wildlife habitats fall within this parish. They are listed according to their associated landscape type or local character area.
If you want more information about any of the sites of special scientific interest (SSSIs) listed below, take a look at English Nature's Nature on the Map website. It may also be possible to find out a bit more about the unnamed wildlife habitats in the parish by contacting the Thames Valley Environmental Records Centre (owls@oxfordshire.gov.uk) and quoting the site code next to the habitat description.
The majority of these wildlife habitats are on private land and access to them is not possible without permission of the landowner, unless there is a statutory right of way. However, many wildlife habitats in the county are open to the public. More information on these can be obtained from the Oxfordshire Nature Conservation Forum.
Wildlife Habitats
Alluvial Lowlands
Site Code: 30K02
This site is a man made water channel, dug in the mid 17th century. It is fast flowing and shallow with areas of tall wetland vegetation dominated by reed and reed grasses, which is a national priority habitat, and steep banks with rough grassland and patches of hawthorn and willow.
There is a good range of wetland plants along the brook including water mint, marsh woundwort, comfrey and greater bird's-foot trefoil. Rare beetles and a number of other invertebrates with a restricted distribution have been recorded here. Dragonflies and damselflies are a regular sight along the channel. These include the uncommon banded demoiselle.
River Meadowlands
Site Code: 30K01/3/1
Area: 49.7ha
Chimney Meadows SSSI
Chimney Meadows is one of the few sites along the Thames in this part of Oxfordshire to escape from agricultural improvement - which means that for the most part the fields have not been ploughed and reseeded or had fertilizer or herbicide applied. One of the meadows is less rich in species and probably has had some limited agricultural treatments in the past. Such grassland is known as semi-improved. Meadows such as Chimney Meadows are a national priority for nature conservation. Chimney Meadows is owned by English Nature and is a National Nature Reserve.
The four northerly meadows are the richest in wildflowers including the rare snake's-head fritillary along with green-winged orchid, cowslip, meadow rue, yellow rattle and the adder's tongue fern as well as more common colourful meadow flowers such as common knapweed, meadow crane's-bill and oxeye daisy. The southern fields are wetter with more rushes and sedges and tussocky grasses. This wet grassland is an important habitat for wading birds. Redshank, curlew and snipe have been recorded as nesting at Chimney in the past. The Meadows are intersected by willow-lined ditches which have a wetland vegetation dominated by tall reeds.
Site Code: 30K01/3
Grid Ref: SP359007
This is a large area of meadowland next to the River Thames. In quite recent times this area was particularly valuable for birds and it has the potential to be valuable again. Waders such as redshank nested here but the populations of these species have declined substantially due to habitat loss. Most of the fields here have been agriculturally improved through the use of fertilizers. In winter flooding attracted good numbers of wintering wildfowl but a reduction in flooding has reduced its value in the winter.
The whole area has recently been bought by the Berkshire, Buckinghamshire and Oxfordshire Wildlife Trust who plan to carry out a programme of habitat restoration.