Districts:
West Oxfordshire Parishes
Asthall
This map highlights the landscape types within the parish you selected, and its associated local character areas. You can click on any area of the map for a description of its landscape character and biodiversity. Please note that local character areas can cover large areas of the countryside, and may include several parishes, so the description may not be specific to this parish. If there are any wildlife habitats within the parish their descriptions can be found by scrolling to the bottom of this page.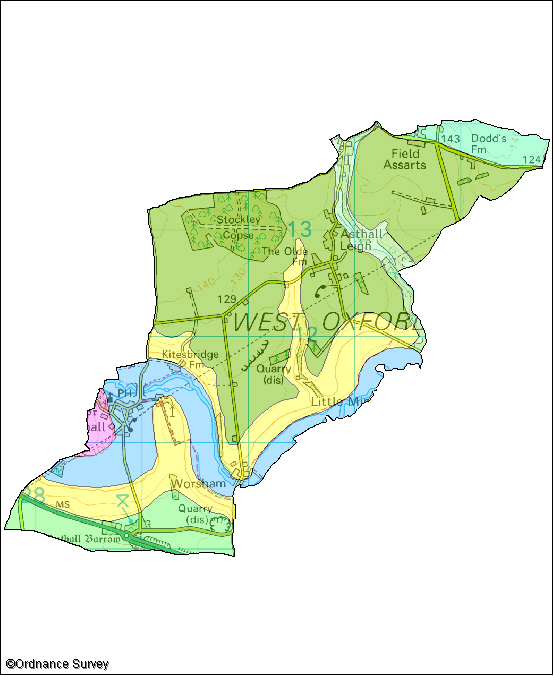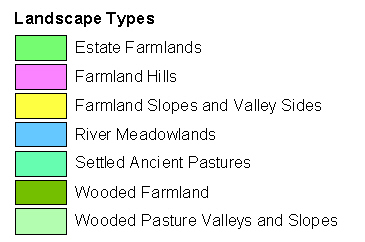 The following wildlife habitats fall within this parish. They are listed according to their associated landscape type or local character area.
If you want more information about any of the sites of special scientific interest (SSSIs) listed below, take a look at English Nature's Nature on the Map website. It may also be possible to find out a bit more about the unnamed wildlife habitats in the parish by contacting the Thames Valley Environmental Records Centre (owls@oxfordshire.gov.uk) and quoting the site code next to the habitat description.
The majority of these wildlife habitats are on private land and access to them is not possible without permission of the landowner, unless there is a statutory right of way. However, many wildlife habitats in the county are open to the public. More information on these can be obtained from the Oxfordshire Nature Conservation Forum.
Wildlife Habitats
Farmland Slopes and Valley Sides
Site Code: 31A01
Area: 5.2ha
This site is a valley with west facing banks of limestone grassland amongst quite dense areas of scrub. Limestone grassland is a national nature conservation priority. The grassland supports a range of wildflowers including fragrant orchid, pyramidal orchid, an abundance of cowslips, common spotted orchid and marjoram.
The grassland areas at this site are becoming increasingly small as scrub is taking over and large sections of the banks are covered in blackthorn. Without some form of management it is likely that the grassland and the orchids will be lost from this valley.
River Meadowlands
Site Code: 21V01/5
Area: 7.5ha
This site is a one of the largest examples in Oxfordshire of marshy wetland habitat with tall plants. This habitat is known as swamp because it is regularly inundated by water. The habitat is dominated by tall sedges and reed grasses and this type of wetland habitat is a national nature conservation priority. When this habitat is left unmanaged dead vegetation builds up and the marsh dries out.
A range of wetland wildflowers can be seen here. These include marsh marigold, marsh bedstraw, meadowsweet and the uncommon marsh stitchwort. There are pollarded* willow trees by the River Windrush and along the other boundaries. There is also a small bank of unmanaged limestone grassland at the northern corner cut off from the rest of the site by a dense hedge.
*Pollarded trees are cut at about head height to produce a 'bundle' of branches.
Site Code: 21V01/3
Area: 12ha
This group of wet riverside hay meadows have largely escaped agricultural improvement through ploughing or reseeding and the use of herbicides although there has been some limited input of artificial fertilizer. There is still a good variety of grassland and wetland wildflowers and this type of meadow is a national nature conservation priority.
The easternmost field has the greatest variety of wildflowers including great burnet, hay rattle and an abundance of small sedges. The wet nature of the meadows is indicated by the presence of the wetland wildflowers including marsh marigold, greater birds-foot trefoil, meadowsweet and yellow flag iris. This type of wet marshy grassland provides good habitat for wading birds.