Districts:
Vale of White Horse Parishes
Wytham
This map highlights the landscape types within the parish you selected, and its associated local character areas. You can click on any area of the map for a description of its landscape character and biodiversity. Please note that local character areas can cover large areas of the countryside, and may include several parishes, so the description may not be specific to this parish. If there are any wildlife habitats within the parish their descriptions can be found by scrolling to the bottom of this page.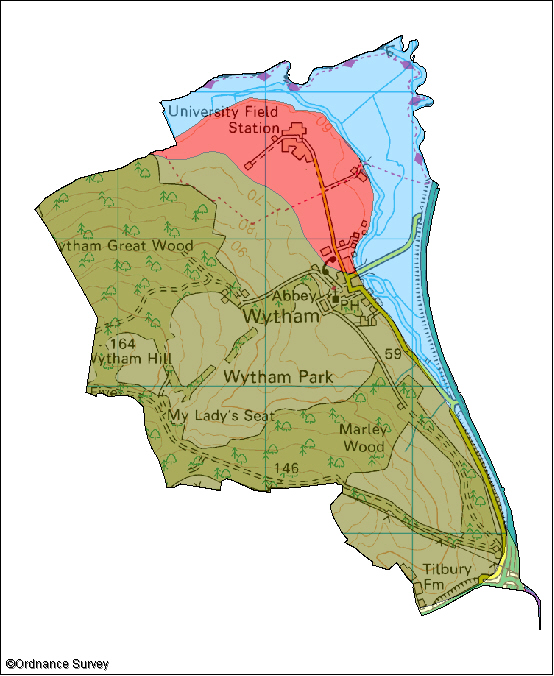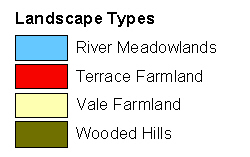 The following wildlife habitats fall within this parish. They are listed according to their associated landscape type or local character area.
If you want more information about any of the sites of special scientific interest (SSSIs) listed below, take a look at English Nature's Nature on the Map website. It may also be possible to find out a bit more about the unnamed wildlife habitats in the parish by contacting the Thames Valley Environmental Records Centre (owls@oxfordshire.gov.uk) and quoting the site code next to the habitat description.
The majority of these wildlife habitats are on private land and access to them is not possible without permission of the landowner, unless there is a statutory right of way. However, many wildlife habitats in the county are open to the public. More information on these can be obtained from the Oxfordshire Nature Conservation Forum.
Wildlife Habitats
River Meadowlands
Site Code: 40U01
Area: 5.7ha
Wytham Ditches and Flushes SSSI
The ditches between Wytham Hill and the River Thames are one of the richest areas in Oxfordshire for plants that grow in water and for wetland plants that grow at the wet ditch edges. The nutrient rich water in the ditches (described technically as euthrophic standing water) is a national priority habitat for nature conservation. Wildflowers found here include the best Oxfordshire populations of greater water parsnip, which is found in very few locations, and greater spearwort.
In a small field on the lowest slopes of Wytham Hill water seeps out and spreads out forming areas known as flushes. Fen vegetation, another national priority habitat, has developed here. Wildflowers found here include marsh valerian, fen bedstraw and common spotted orchid.
Wooded Hills
Area: 426.5ha
Site Code: 40P01/1
Wytham Woods SSSI
Wytham Woods crests Wytham Hill to the north west of Oxford. It has been used extensively for research and has been the inspiration for a number of woods in literature including Tolkien's Fanghorn Forest. Much of the site is ancient woodland which means it has been continuously wooded since at least 1600AD. It is a very rich extensive area with the typical composition of old woodland with native trees and shrubs and carpets of bluebells in the spring. There is a great variety of woodland wildflowers, mosses and liverworts, butterflies and other invertebrates and birds with many rare species. Broadleaved woodland is a national priority for nature conservation.
In addition to the woodland there are areas of limestone grassland rich in wildflowers including many orchids. Fen vegetation is found in one area where water seeps out on the slopes of the Hill. Both habitats are also national priorities for nature conservation. An experimental ploughed area has very rare arable wildflowers.