Districts:
Vale of White Horse Parishes
Letcombe Regis
This map highlights the landscape types within the parish you selected, and its associated local character areas. You can click on any area of the map for a description of its landscape character and biodiversity. Please note that local character areas can cover large areas of the countryside, and may include several parishes, so the description may not be specific to this parish. If there are any wildlife habitats within the parish their descriptions can be found by scrolling to the bottom of this page.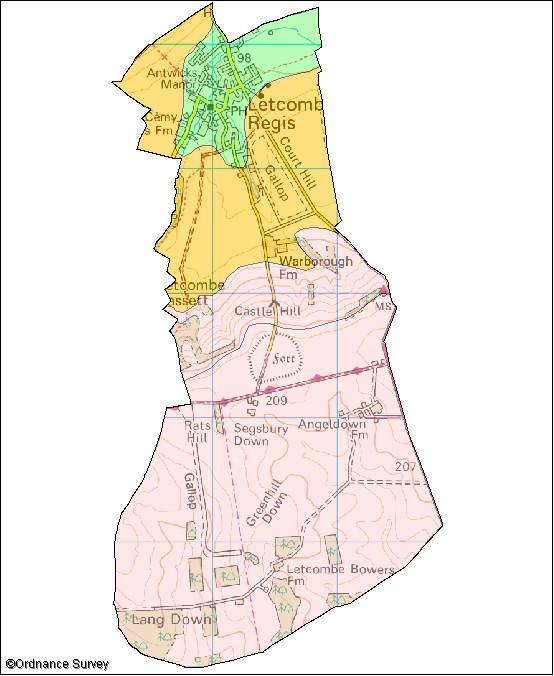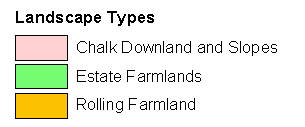 The following wildlife habitats fall within this parish. They are listed according to their associated landscape type or local character area.
If you want more information about any of the sites of special scientific interest (SSSIs) listed below, take a look at English Nature's Nature on the Map website. It may also be possible to find out a bit more about the unnamed wildlife habitats in the parish by contacting the Thames Valley Environmental Records Centre (owls@oxfordshire.gov.uk) and quoting the site code next to the habitat description.
The majority of these wildlife habitats are on private land and access to them is not possible without permission of the landowner, unless there is a statutory right of way. However, many wildlife habitats in the county are open to the public. More information on these can be obtained from the Oxfordshire Nature Conservation Forum.
Wildlife Habitats
Chalk Downland and Slopes
Site Code: 38X07
Area: 0.9ha
This site is a bank of chalk grassland. Chalk grassland is now mainly restricted to steep banks such as this and is a national nature conservation priority.
The short sheep grazed turf has the typical appearance of chalk grassland with many small colourful wildflowers present in high abundance. These include wild thyme, mouse-eared hawkweed, common centaury and fairy flax. The longer ungrazed grass at the edge has cowslips and tall colourful wildflowers such as greater knapweed and field scabious. Much of the surrounding land, which was used for arable crops, is being restored to chalk grassland and this site is a valuable source from which wildflowers and insects can re-colonise these areas.
Estate Farmlands
Site Code: 38Y01
Area: 1.2ha
This site is an area of reedbed which is a rare habitat in Oxfordshire and is a national nature conservation priority. Reedbeds are dominated by common reed, and in some parts of the country they have been traditionally cut to provide material for thatching.
At the edge there are willows and larger native black poplars which are an uncommon sight. Wetland wildflowers found here include meadowsweet, marsh marigold, water mint and marsh bedstraw. Kingfishers are often seen along the Letcombe Brook. A good variety of uncommon insects have been recorded here including a number of water beetles and the ruddy darter damselfly. Reedbeds are usually valuable sites for birds.