Districts:
Vale of White Horse Parishes
Great Coxwell
This map highlights the landscape types within the parish you selected, and its associated local character areas. You can click on any area of the map for a description of its landscape character and biodiversity. Please note that local character areas can cover large areas of the countryside, and may include several parishes, so the description may not be specific to this parish. If there are any wildlife habitats within the parish their descriptions can be found by scrolling to the bottom of this page.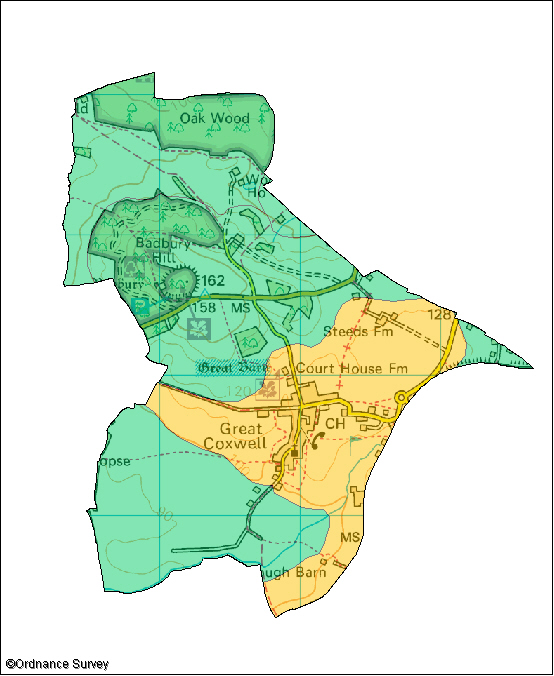 The following wildlife habitats fall within this parish. They are listed according to their associated landscape type or local character area.
If you want more information about any of the sites of special scientific interest (SSSIs) listed below, take a look at English Nature's Nature on the Map website. It may also be possible to find out a bit more about the unnamed wildlife habitats in the parish by contacting the Thames Valley Environmental Records Centre (owls@oxfordshire.gov.uk) and quoting the site code next to the habitat description.
The majority of these wildlife habitats are on private land and access to them is not possible without permission of the landowner, unless there is a statutory right of way. However, many wildlife habitats in the county are open to the public. More information on these can be obtained from the Oxfordshire Nature Conservation Forum.
Wildlife Habitats
Wooded Estatelands
Site Code: 29S02
Area: 38.6 ha
This is a good sized area of woodland which includes an Iron Age hillfort. It is ancient woodland, which means it has been continuously wooded since 1600AD. Although much of the woodland has been planted with conifers the plantations are fringed by old woodland composed of native trees and shrubs. Broadleaved woodland such as this is a national nature conservation priority.
At the hillfort there is a beech plantation with a fine display of bluebells in spring. Bluebells are also abundant in the plantation fringes where many woodland wildflowers are found including primrose and wood anemone. Grassland wildflowers, such as cowslip, are found in the wide woodland tracks. There are a number of springs in the wood and many rushes and wetland wildflowers, such as bugle and meadowsweet, in the damper areas. In the more acidic areas gorse, foxglove and heath bedstraw are found.
Site Code: 29T03
Area: 120.8ha
This site is an extensive area of ancient woodland which means it has been continuously wooded for at least 400 years. While large areas have been planted with conifers there are still substantial areas of old broadleaved woodland composed of native trees and shrubs. This type of ancient woodland is a national priority for nature conservation.
These areas have a canopy of ash and oak with a hazel dominated shrub layer though many other species are present. The ground flora has many bluebells along with dog's mercury and a good variety of other woodland wildflowers including early purple and greater butterfly orchid. The wood is quite wet and damper areas have wetland wildflowers such as ragged robin and bugle. Turtle dove and song thrush, both national priorities for nature conservation, are found here. There is a good range of rare and scarce insects especially moths and beetles. The uncommon white admiral butterfly has been in this wood.