Districts:
South Oxfordshire Parishes
Harpsden
This map highlights the landscape types within the parish you selected, and its associated local character areas. You can click on any area of the map for a description of its landscape character and biodiversity. Please note that local character areas can cover large areas of the countryside, and may include several parishes, so the description may not be specific to this parish. If there are any wildlife habitats within the parish their descriptions can be found by scrolling to the bottom of this page.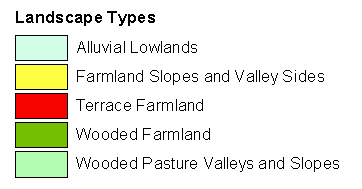 The following wildlife habitats fall within this parish. They are listed according to their associated landscape type or local character area.
If you want more information about any of the sites of special scientific interest (SSSIs) listed below, take a look at English Nature's Nature on the Map website. It may also be possible to find out a bit more about the unnamed wildlife habitats in the parish by contacting the Thames Valley Environmental Records Centre (owls@oxfordshire.gov.uk) and quoting the site code next to the habitat description.
The majority of these wildlife habitats are on private land and access to them is not possible without permission of the landowner, unless there is a statutory right of way. However, many wildlife habitats in the county are open to the public. More information on these can be obtained from the Oxfordshire Nature Conservation Forum.
Wildlife Habitats
Wooded Farmland
Site Code: 78K01
Area: 0.6ha
Highlands Farm Pit SSSI
Highlands Farm Pit is one of a number of quarries in Oxfordshire where quarrying has produced exposures of rocks that are important to our understanding of geological history. Here there is the last available exposure of the gravel floor of a prehistoric channel of the River Thames known as the Ancient Channel.
Site Code: 78Q01
Area: 25.8ha
Harpsden Wood SSSI
Harpsden Wood is an area of ancient woodland which means the site has been wooded since at least 1600AD. It has a canopy of beech with oak and ash. The soils vary from acid to calcareous which leads to variation in the composition of trees and shrubs. The acidic areas have a sparse shrub layer while on the calcareous chalk there is a good variety of shrubs including hazel, dogwood, spindle, wayfaring tree and wych elm. Woodland such as this is a national priority for nature conservation.
On the ground there is a rich variety of woodland plants. These include the uncommon narrow-lipped helleborine, green flowered helleborine, birds nest and yellow bird's-nest orchids, wood barley and cow-wheat. Other woodland wildflowers found here include sanicle, woodruff and broad-leaved helleborine.
Wooded Pasture Valleys and Slopes
Site Code: 78F04
Area: 2.9ha
This site is a steep bank with areas of chalk grassland found in open areas amongst scrub. Chalk grassland is now mainly restricted to steeper banks such as this and is a national priority for nature conservation.
Typically for chalk grassland there is a good variety of mainly small colourful wildflowers especially in the areas of shorter grass. These include marjoram, large thyme, common centaury, pyramidal orchid and many autumn gentians. The rare parasitic common dodder is also present. At the edge next to areas of ancient woodland a number of uncommon wild service trees are found.