Districts:
Cherwell Parishes
Weston-on-the-Green
This map highlights the landscape types within the parish you selected, and its associated local character areas. You can click on any area of the map for a description of its landscape character and biodiversity. Please note that local character areas can cover large areas of the countryside, and may include several parishes, so the description may not be specific to this parish. If there are any wildlife habitats within the parish their descriptions can be found by scrolling to the bottom of this page.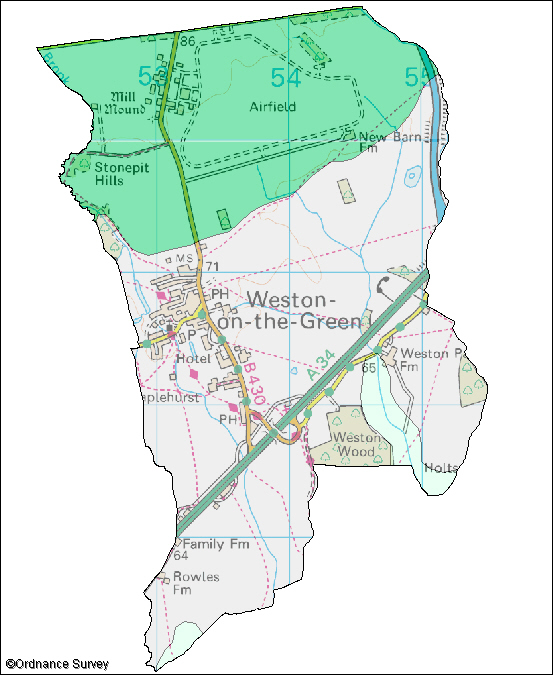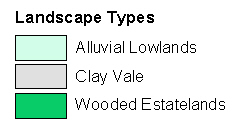 The following wildlife habitats fall within this parish. They are listed according to their associated landscape type or local character area.
If you want more information about any of the sites of special scientific interest (SSSIs) listed below, take a look at English Nature's Nature on the Map website. It may also be possible to find out a bit more about the unnamed wildlife habitats in the parish by contacting the Thames Valley Environmental Records Centre (owls@oxfordshire.gov.uk) and quoting the site code next to the habitat description.
The majority of these wildlife habitats are on private land and access to them is not possible without permission of the landowner, unless there is a statutory right of way. However, many wildlife habitats in the county are open to the public. More information on these can be obtained from the Oxfordshire Nature Conservation Forum.
Wildlife Habitats
Alluvial Lowlands
Site Code: 51U03
Area: 2.6ha
This site consists of three long narrow ponds. Two of the ponds are largely filled with bulrush and there is little open water. One pond has willows growing in the water. The largest pond has more open water and also areas of tall wetland vegetation dominated by reed grasses and some bulrush. This habitat is known as swamp because it often inundated by water.
A variety of wetland and aquatic wildflowers are present including water mint, yellow flag iris, meadowsweet and water plantain. At the edge there are areas of wet willow dominated woodland. Wet woodland and tall wet wetland habitat are national priorities for conservation.

Clay Vale
Site Code: 51I05
Area: 0.3ha
This site is a small area of woodland with patches of blackthorn scrub. Blackthorn is the foodplant of the nationally scarce black hairstreak butterfly which has been recorded here.
Site Code: 51N04
Area: 18ha
This site is ancient woodland which means it has been continually wooded since at least 1600AD. The main trees are oak and ash, with many white poplars in the western half, and there is also coppiced* ash and hazel. Besides the coppice there is a good variety of shrubs including spindle, blackthorn and dogwood.
Wildflowers found here include bluebells which form a carpet in spring, wood anemone, bugle, red campion and primrose. Weston Wood is quite wet and there are marshy areas, wet ditches and ponds. In the past the purple hairstreak and white admiral butterflies have been recorded in the wood.
*Coppicing is a traditional form of management where small multi-stemmed trees and shrubs are cut down to the ground at regular intervals producing a harvest of small branches.
Site Code: 51P03
Area: 5.2 ha
This site is another of a group of ancient woodland sites in the Weston-on-the-Green area. These are sites which have been continuously wooded since at least 1600AD. The mixed woodland canopy is composed of oak, ash, field maple and hazel. All these have been coppiced* in the past but not recently so now there are many large multi-stemmed trees. There is a large medieval woodbank along the eastern side. At the edge of the wood there are dense areas of blackthorn and hawthorn scrub.
The wood is rich in wildflowers. In spring there is a carpet of bluebells along with wood anemone, yellow archangel and primrose. Greater butterfly orchid is present on one of the woodland tracks and common spotted orchid is also present.
*Coppicing is a traditional form of management where small multi-stemmed trees and shrubs are cut down to the ground at regular intervals producing a harvest of small branches.

Wooded Estatelands
Site Code: 51J01
Area: 13ha
Weston Fen SSSI
Weston Fen has a variety of habitats that are national priorities for nature conservation. The fen ranges from tall vegetation with reeds and tall sedges to shorter rush dominated fen vegetation. This is one a group of rich Oxfordshire fens which elsewhere in the country are found mainly in East Anglia and North Wales. At the northern edge the fen becomes mixed with wet grassland habitat. Further north there is an area known as the Stone Pits where limestone was quarried in the past. Limestone grassland is found here. The rest of the site is wet willow dominated woodland and drier mixed broadleaved woodland.
In the fen wildflowers such as ragged robin, marsh valerian, hemp-agrimony, meadow rue and fen bedstraw can be seen. In the limestone grassland clustered bellflower and small scabious are present. The drier woodland has bluebells and sanicle on the ground. A number of rare and uncommon invertebrates have been recorded from the fen and stream that borders the site. Amongst the birds recorded here are reed buntings which are a national priority species due the rapid decline in their UK population.