Districts:
Cherwell Parishes
Hook Norton
This map highlights the landscape types within the parish you selected, and its associated local character areas. You can click on any area of the map for a description of its landscape character and biodiversity. Please note that local character areas can cover large areas of the countryside, and may include several parishes, so the description may not be specific to this parish. If there are any wildlife habitats within the parish their descriptions can be found by scrolling to the bottom of this page.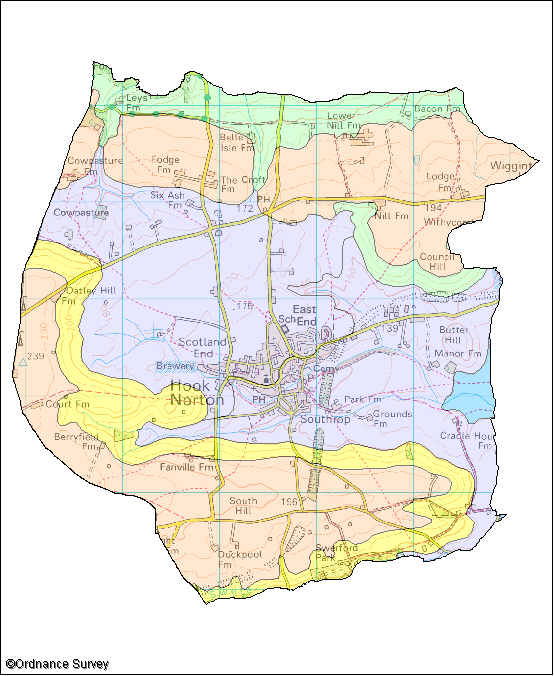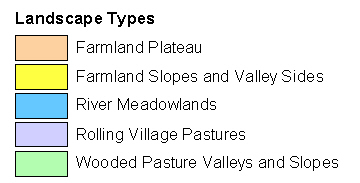 The following wildlife habitats fall within this parish. They are listed according to their associated landscape type or local character area.
If you want more information about any of the sites of special scientific interest (SSSIs) listed below, take a look at English Nature's Nature on the Map website. It may also be possible to find out a bit more about the unnamed wildlife habitats in the parish by contacting the Thames Valley Environmental Records Centre (owls@oxfordshire.gov.uk) and quoting the site code next to the habitat description.
The majority of these wildlife habitats are on private land and access to them is not possible without permission of the landowner, unless there is a statutory right of way. However, many wildlife habitats in the county are open to the public. More information on these can be obtained from the Oxfordshire Nature Conservation Forum.
Wildlife Habitats
Farmland Plateau
Site Code: 33K01/1 (Bank) and Lin6/1 (Cuttings)
Area: 6.8 ha
Hook Norton Cutting and Banks SSSI
South of Hook Norton, the disused railway and the River Swere cut through limestone rocks. The valley side and cuttings support limestone grassland, which is a national nature conservation priority. Limestone grassland is particularly rich in colourful wildflowers and great variety can be seen here. These include autumn gentian, harebell, cowslip, and common spotted orchid. At the base of Hook Norton Bank next to the river marshy wetland vegetation can be found and water mint and marsh marigold can be seen here.
Oak and ash woodland has established on the northern cutting. The cuttings are a nature reserve managed by Berkshire, Buckinghamshire and Oxfordshire Wildlife Trust. The reserve extends to the cutting north of the SSSI. The site is also important for insects especially bees. One species has only been recorded in three other sites in Britain.
The cutting is also important for it's geology due the layers of rock exposed when then they were dug which are important in our understanding of geological history.
Rolling Village Pastures
Site Code: 33R01
Area: 15.7 ha
This site consists of a section of valleys along a small tributary of the River Swere which cuts through the limestone and ironstone rocks in the area. The valley has banks of grassland rich in wildflowers while in the valley bottom there are marshy areas and a pond.
The grassland on the banks, while being neutral in character, is quite varied due to the influence of the underlying rocks. Some areas have wildflowers, such as salad burnet, indicate the presence of limestone. On the more acidic sandy soils betony, tormentil and marsh lousewort are found. Other grassland wildflowers present include lady's mantle and harebell. This type of grassland is a national nature conservation priority.
In the valley bottom there is a mixture of tall wetland habitat and marshy areas with sedge and rushes. Many wetland wildflowers are found here including ragged robin, marsh marigold, the uncommon wood-club rush, yellow flag iris and meadowsweet. A pond has been dug at the east end. These wetland habitats are also a priority for nature conservation and provide good habitat for birds. Snipe and woodcock have been recorded here.
Wooded Pasture Valleys and Slopes
Site Code: 33H01
Area: 2.4ha
Sharp's Hill Quarry SSSI
Sharp's Hill Quarry is one of a number of sites in Oxfordshire where quarrying has left important geological exposures which are of great value in the understanding of geological history. This quarry has a fine example of what is known as the Sharp's Hill formation which is rich in fossils.
Site Code: 33N02
Area: 17.7 ha
This is an area of disused quarries and pasture on limestone rocks and sandy soils. Limestone grassland is a national nature conservation priority and in now mainly found on small banks along the valleys and in the old quarries.
The grassland has green winged orchids and cowslips as well as a population of Cotswold pennycress. This very rare species is a national nature conservation priority. The areas with sandy soil are more acidic and gorse is found here. There are also areas of ash woodland and wet areas along a stream. A good variety of birds can be seen at the site including buzzard and green woodpecker while brown argus is one of the butterflies that can be seen here.
Site Code: 33H04
Area: 1.3ha
This site is a small bank of west facing limestone grassland on the valley side of one of the headwater tributary streams of the River Stour. Limestone grassland is a national nature conservation priority.
The main feature of the limestone grassland is the presence of green-winged, pyramidal and common spotted orchids. Other wildflowers present include cowslip, lady's bedstraw, small scabious and salad burnet. There are also areas of hawthorn scrub on the bank providing good habitat for birds. At the bottom of the bank the soil is much deeper and richer and therefore lacks the richness in wildflowers of the bank. There is a marshy area here with rushes and reed grass where marsh marigold and meadowsweet are found.