Districts:
West Oxfordshire Parishes
Tackley
This map highlights the landscape types within the parish you selected, and its associated local character areas. You can click on any area of the map for a description of its landscape character and biodiversity. Please note that local character areas can cover large areas of the countryside, and may include several parishes, so the description may not be specific to this parish. If there are any wildlife habitats within the parish their descriptions can be found by scrolling to the bottom of this page.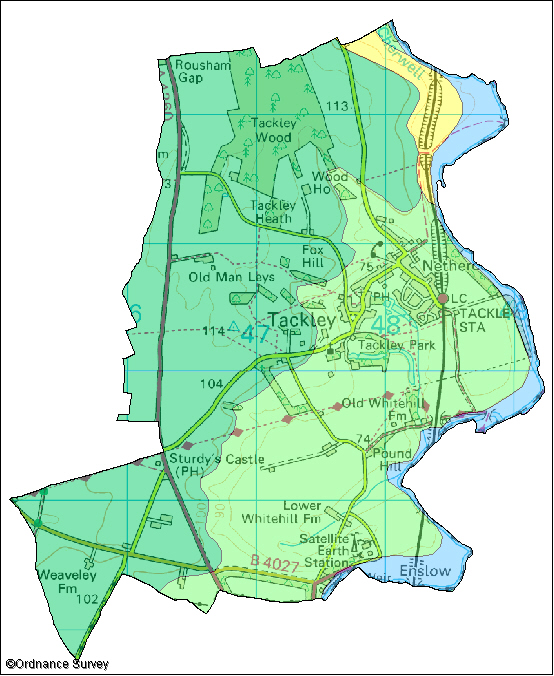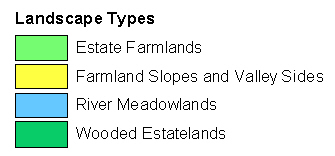 The following wildlife habitats fall within this parish. They are listed according to their associated landscape type or local character area.
If you want more information about any of the sites of special scientific interest (SSSIs) listed below, take a look at English Nature's Nature on the Map website. It may also be possible to find out a bit more about the unnamed wildlife habitats in the parish by contacting the Thames Valley Environmental Records Centre (owls@oxfordshire.gov.uk) and quoting the site code next to the habitat description.
The majority of these wildlife habitats are on private land and access to them is not possible without permission of the landowner, unless there is a statutory right of way. However, many wildlife habitats in the county are open to the public. More information on these can be obtained from the Oxfordshire Nature Conservation Forum.

Wildlife Habitats
Estate Farmlands
Site Code: 41U01
Area: 27.6ha
Shipton-on-Cherwell and Whitehill Farm Quarries SSSI
Quarrying often exposes interesting rock formations and fossils which are very important in our understanding of geological history. This is the case with these two disused limestone quarries. The exposures here range from the White Limestone through to Lower Cornbrash rocks. Shipton-on-Cherwell is internationally important for fossilised reptiles including crocodiles and dinosaurs including one of the earliest examples of Stegosaurus.
Site Code: 42V07
Area: 2.8ha
This site is a railway cutting which cuts through limestone rocks. Limestone grassland is found on the banks. This habitat is a national priority for nature conservation.
The limestone grassland has good numbers of pyramidal and common spotted orchids. Other wildflowers include fairy flax and cowslip. The cuttings are part of larger areas of limestone grassland which are found on banks beyond the railway.
Site Code: 42V06
Area: 0.85ha
Crecy Hill Local Nature Reserve (LNR) (previously part of Nethercott Meadow)
Crecy Hill LNR is a steep bank of limestone grassland next to the railway at Tackley. Limestone grassland is a national nature conservation priority. Although small in size further areas of limestone grassland are found on the adjacent railway cutting.
The bank has a particularly fine display of pyramidal orchids. Other wildflowers present hare include sainfoin, yellow rattle, wild basil and fairy flax. A number of insects with a restricted distribution have been recorded at Crecy Hill. These include marbled white and small blue butterflies.

River Meadowlands
Site Code: 42X07/3
Area: 7.3 ha
This is a varied site that lies next to the River Cherwell. It has an oxbow lake which is an old part of the river now cut of when it changed course at this point. A plant species called whorled water milfoil is found here. This is a nationally scarce plant that has been lost from many of the sites in Oxfordshire where it was once found.
On the western side there is a bank with limestone grassland. This habitat is a national nature conservation priority. Wildflowers found here include salad burnet, cowslip, lady's bedstraw and stemless thistle. Pyramidal orchids have been seen here in the past. A lot of hawthorn scrub is also found on this bank.
At the base of this bank tall wetland vegetation is found. This is another priority habitat for nature conservation. It supports a rich variety of wetland wildflowers such as marsh marigold, ragged robin, meadow rue, and yellow flag iris. This extends along a ditch to the north and around the edge of the oxbow lake. Such vegetation at the margins of lakes and ponds is important for water living insects. Among the uncommon insects found here is the white-legged damselfly.
Wooded Estatelands
Site Code: 42Q01
Area: 17.1ha
Tackley Heath is one of a small number of areas of commonland that has remnants of rare acidic habitats. There is no heather dominated heathland here. Instead bracken dominates the acidic soils with patches of acid grassland along paths. Acid grassland is very rare in Oxfordshire and is a national priority for nature conservation. It is likely in the past the grassland was more extensive and true heathland may have been present but without management bracken has taken over.
There are also areas of scrub on the Heath and a pond. There is also some ash woodland at the edge of the Heath and the site also includes an area of oak and ash woodland to the west. Broadleaved woodland such as this is also a national priority for nature conservation.
Acid grassland plants found here include tormentil and pill sedge. Other wildflowers present include yellow rattle and, in the woodland, bluebells, wood anemone, primrose and wood sorrel. The pond has a good variety of aquatic and wetland plants. Tackley Heath supports a good variety of birds.


Site Code: 42Q08
Area: 74.1ha
This site is a large and mixed area of woodland. Parts of the wood are ancient woodland which means they have been continuously wooded since 1600AD though much of this area and a large part of the more recent woodland is conifer and broadleaved plantation. There are some areas of older woodland with oak and ash trees and hazel and filed maple coppice. This type of woodland is a national priority for nature conservation.
Woodland wildflowers found here include wood sorrel, wood anemone and primrose and there are old records for the rare wild columbine. The wood is a valuable site for birds. Sparrowhawk, woodcock, woodpeckers, nuthatch and six species of tit have been recorded here.