Districts:
West Oxfordshire Parishes
Swinbrook and Widford
This map highlights the landscape types within the parish you selected, and its associated local character areas. You can click on any area of the map for a description of its landscape character and biodiversity. Please note that local character areas can cover large areas of the countryside, and may include several parishes, so the description may not be specific to this parish. If there are any wildlife habitats within the parish their descriptions can be found by scrolling to the bottom of this page.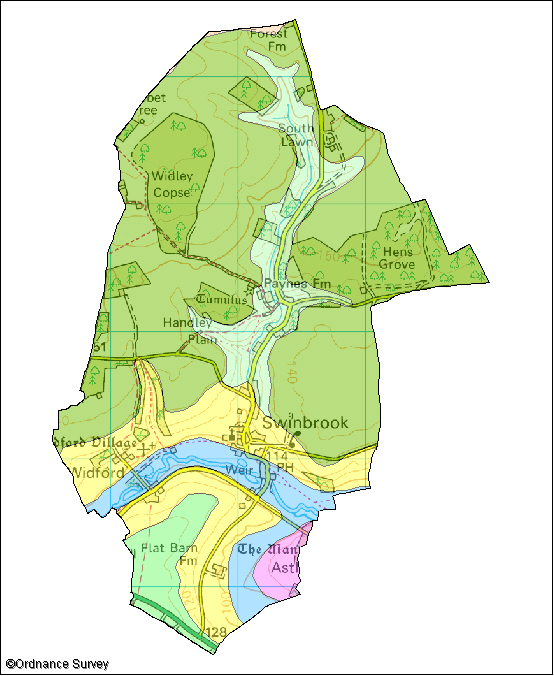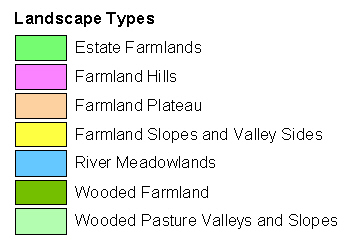 The following wildlife habitats fall within this parish. They are listed according to their associated landscape type or local character area.
If you want more information about any of the sites of special scientific interest (SSSIs) listed below, take a look at English Nature's Nature on the Map website. It may also be possible to find out a bit more about the unnamed wildlife habitats in the parish by contacting the Thames Valley Environmental Records Centre (owls@oxfordshire.gov.uk) and quoting the site code next to the habitat description.
The majority of these wildlife habitats are on private land and access to them is not possible without permission of the landowner, unless there is a statutory right of way. However, many wildlife habitats in the county are open to the public. More information on these can be obtained from the Oxfordshire Nature Conservation Forum.

Wildlife Habitats
Wooded Farmland
Site Code: 21S01
Area: 43.4 ha
This site is a large area of ancient woodland which means that is has been wooded for at least 400 years. Much of the woodland retains the typical character of ancient broadleaved woodland with mature trees of oak, ash and field maple and a mix of shrubs including hazel coppice*. This type of woodland is a national priority for nature conservation. An unusual feature is the very large many stemmed sweet chestnuts. This tree was introduced by the Romans and the large multi-stemmed trees are an indication that they were managed as coppice in the past.
The uncommon purple hairstreak and brown hairstreak butterflies have been seen here in the past and two rare beetles have been recorded. The woodland floor is covered with an abundance of bluebells, dog's mercury, yellow archangel and wood anemone along with some sweet woodruff and early purple orchids – the typically rich mixture found in ancient woodlands.
The southern part of the wood has been modifying by conifer planting. The dense blocks of conifers cast a heavy shade and few flowering plants survive in such areas. However most of the area is quite thinly planted which means light can penetrate to the ground and some remnants of the ancient woodland flora can survive.
*Coppicing is a traditional woodland management method where shrubs and small trees are cut down to the ground on a regular basis producing a harvest of thin branches. This opens up the woodland to benefit wildflowers and insects such as butterflies.
Wooded Pasture Valleys and Slopes
Site Code: 21W01
Area: 0.9ha
This site is in one of the small valleys that lie to the north of the Windrush Valley. At this point a group of springs arise forming an area of wetland habitat known as fen. The vegetation is dominated by sedges and rushes. Fen habitat is a national nature conservation priority. A good variety of wetland wildflowers can be seen here including marsh orchids, ragged robin, marsh valerian and marsh marigold.