Districts:
West Oxfordshire Parishes
Stanton Harcourt
This map highlights the landscape types within the parish you selected, and its associated local character areas. You can click on any area of the map for a description of its landscape character and biodiversity. Please note that local character areas can cover large areas of the countryside, and may include several parishes, so the description may not be specific to this parish. If there are any wildlife habitats within the parish their descriptions can be found by scrolling to the bottom of this page.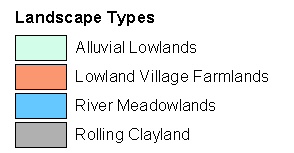 The following wildlife habitats fall within this parish. They are listed according to their associated landscape type or local character area.
If you want more information about any of the sites of special scientific interest (SSSIs) listed below, take a look at English Nature's Nature on the Map website. It may also be possible to find out a bit more about the unnamed wildlife habitats in the parish by contacting the Thames Valley Environmental Records Centre (owls@oxfordshire.gov.uk) and quoting the site code next to the habitat description.
The majority of these wildlife habitats are on private land and access to them is not possible without permission of the landowner, unless there is a statutory right of way. However, many wildlife habitats in the county are open to the public. More information on these can be obtained from the Oxfordshire Nature Conservation Forum.

Wildlife Habitats
Lowland Village Farmlands
Site Code: 40C02
Area: 33.3ha
This site is one of a large number of disused gravel pits in the Lower Windrush. The open water in these pits is attractive habitat for birds, especially wildfowl that winter in the UK. The value of any particular pit depends on factors such as water depth and human disturbance. This pit is important due to the lack of disturbance, the presence of shallow areas and islands. This site is considered to be one of the most important sites in the Lower Windrush Valley. It is particularly good for terns, ducks, grebes and gulls.

Site Code: 40C03
Area: 0.68ha
Stanton Harcourt SSSI
This site has been notified for its geological importance. The gravel deposits found here and the fossils found within them are very important in helping our understanding of geological history. The site is a major reserve of what is known as the Summertown-Radley Terrace of the Upper Thames.
River Meadowlands
Site Code: 40I02
Area: 4.4ha
This riverside meadow has wet grassland habitat. This has tussocky grasses and some tall sedge along with wildflowers such as meadowsweet, cuckooflower, knapweed and marsh horsetail. Wet meadows such as this provide valuable habitat for birds and species such as lapwing have been recorded here. Lapwing is classed as a species of conservation concern due to the decline in its numbers in lowland England.