Districts:
West Oxfordshire Parishes
Standlake
This map highlights the landscape types within the parish you selected, and its associated local character areas. You can click on any area of the map for a description of its landscape character and biodiversity. Please note that local character areas can cover large areas of the countryside, and may include several parishes, so the description may not be specific to this parish. If there are any wildlife habitats within the parish their descriptions can be found by scrolling to the bottom of this page.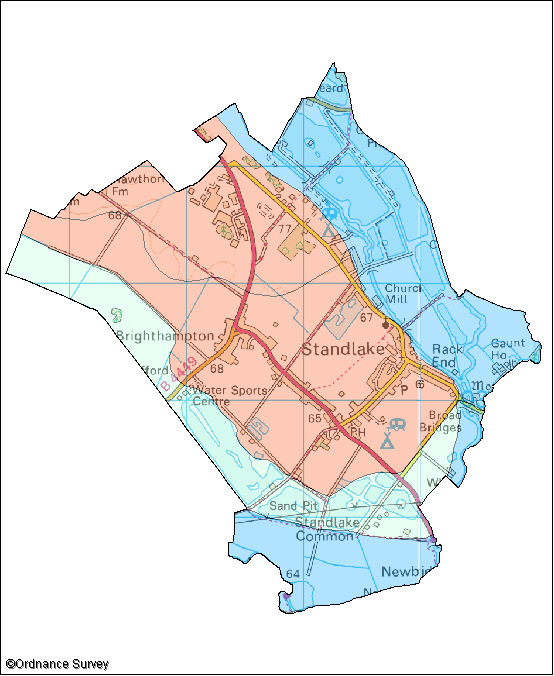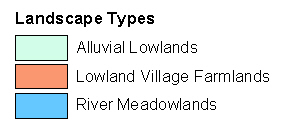 The following wildlife habitats fall within this parish. They are listed according to their associated landscape type or local character area.
If you want more information about any of the sites of special scientific interest (SSSIs) listed below, take a look at English Nature's Nature on the Map website. It may also be possible to find out a bit more about the unnamed wildlife habitats in the parish by contacting the Thames Valley Environmental Records Centre (owls@oxfordshire.gov.uk) and quoting the site code next to the habitat description.
The majority of these wildlife habitats are on private land and access to them is not possible without permission of the landowner, unless there is a statutory right of way. However, many wildlife habitats in the county are open to the public. More information on these can be obtained from the Oxfordshire Nature Conservation Forum.
Wildlife Habitats
River Meadowlands
Site Code: 30V09
Area: 3.5ha
Langley's Lane Meadow SSSI
Langley's Lane Meadow, situated next to the Thames near Standlake, is a small surviving remnant of flower rich hay meadow that has escaped agricultural improvement through the use of herbicides, fertilizers or ploughing and reseeding. Meadows such as this are a national priority for nature conservation.
Wildflowers present here included green-winged orchid, great burnet, devil's-bit scabious, cowslip and dropwort. The meadow is very calcareous and this is indicted by the presence of greater knapweed and lady's bedstraw and upright brome grass, which is more usually found on the chalk of the Berkshire Downs or limestone of the Cotswolds.
Site Code: 30X05
Area: 2.7ha
This site is a small, disused and flooded gravel pit, which is part of the complex of pits in the Lower Windrush Valley. An extensive area of reedbed, dominated by common reed, has developed in the pit. This habitat is a national conservation priority and is important for birds in particular. At the edges of the reedbed and amongst willow scrub to the north of the reedbed there are areas of wetland vegetation dominated by tall sedge.
On the open, bare dry ground lichens have formed a covering known as lichen heath, which is an unusual sight - especially in Oxfordshire. A good range of birds was recorded in 1992 including the national priority species bullfinch, reed bunting and song thrush. Great crested newt, another national priority for nature conservation, was also found here in 1992.