Districts:
West Oxfordshire Parishes
North Leigh
This map highlights the landscape types within the parish you selected, and its associated local character areas. You can click on any area of the map for a description of its landscape character and biodiversity. Please note that local character areas can cover large areas of the countryside, and may include several parishes, so the description may not be specific to this parish. If there are any wildlife habitats within the parish their descriptions can be found by scrolling to the bottom of this page.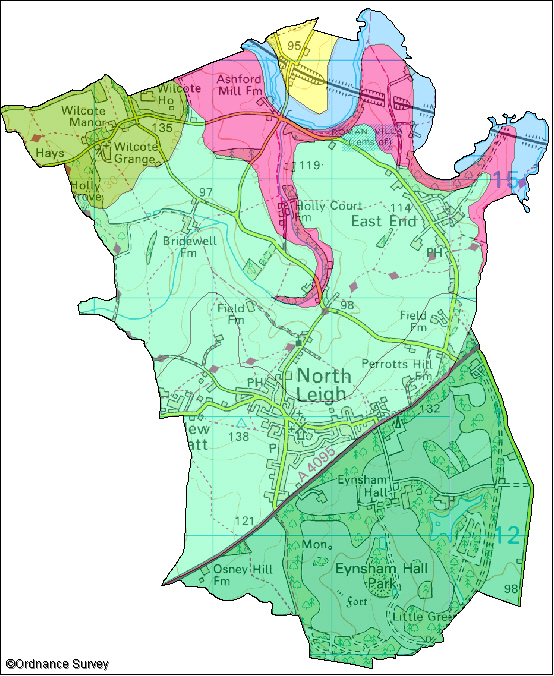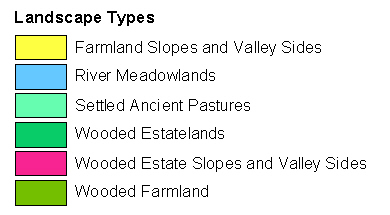 The following wildlife habitats fall within this parish. They are listed according to their associated landscape type or local character area.
If you want more information about any of the sites of special scientific interest (SSSIs) listed below, take a look at English Nature's Nature on the Map website. It may also be possible to find out a bit more about the unnamed wildlife habitats in the parish by contacting the Thames Valley Environmental Records Centre (owls@oxfordshire.gov.uk) and quoting the site code next to the habitat description.
The majority of these wildlife habitats are on private land and access to them is not possible without permission of the landowner, unless there is a statutory right of way. However, many wildlife habitats in the county are open to the public. More information on these can be obtained from the Oxfordshire Nature Conservation Forum.
Wildlife Habitats
Farmland Slopes and Valley Sides
Site Code: 31Y09
Area: 2.4ha
This site is an area of limestone grassland and woodland on the northern valley side of the River Evenlode. The limestone grassland at the eastern end is now little more than a couple of small patches within an area of scrub and woodland. At the western end there is another bank of limestone grassland. Like the eastern end this is also unmanaged and scrub is establishing though the grassland area is far more extensive. Wildflowers such as wild liquorice, pyramidal orchid, wild thyme and rock rose are present along with the uncommon grey sedge. Limestone grassland is a national nature conservation priority.
The woodland lies between these two banks. This has the typical composition of old woodland through it is not ancient woodland. There is a canopy of ash with some oak and a shrub layer of hazel .There are a few woodland wildflowers including dog's mercury, yellow archangel and spurge laurel. Broadleaved woodlands such as this are a national nature conservation priority.
Settled Ancient Pastures
Site Code: 31S01
Area: 17.9ha
This site is partly ancient woodland, which means the site has been continuously wooded since 1600AD, and partly a long established area of woodland. Both are mainly composed of native broadleaved trees and shrubs. Such woodland is a national priority for nature conservation.
The canopy is mainly large old oak trees. Some specimens of the uncommon wild service trees are present. In spring a carpet of bluebells covers the ground giving the wood the archetypal appearance of bluebell woodland. Other flowers found here that favour old woodland include violet helleborine, early purple orchid, wood anemone, sanicle and pignut. The uncommon white letter hairstreak butterfly, which feeds on elm, and white admiral butterfly have been recorded. Birds seen here include blackcap and nuthatch.
Site Code: 41B05
Area: 14.6ha
North Leigh Heath
North Leigh Heath is an area of commonland. Typically for these sites there are habitats associated with acidic soils. However there is no heathland although this was found here in the past. Instead there are large areas of bracken, along with gorse scrub and patches of acid grassland. Acid grassland is rare in Oxfordshire and is a national priority for nature conservation. Part of the site was used as football pitch for a while and here the grassland is more neutral in character. Wildflowers found in the grassland include centaury, tormentil, betony and the locally uncommon slender and trailing St. Johns wort.
There are also extensive areas of hawthorn and blackthorn scrub and woodland. There are also old pits which are wet with willow and wetland plants including a patch of Sphagnum moss which is a very unusual sight in Oxfordshire. North Leigh Heath provides good habitat for birds. Bullfinch and song thrush, which are both national priorities for nature conservation, nest here and linnets are regular visitors. Over 50 species have been seen using the site for nesting or feeding. A number of scarce invertebrates have also been recorded here.

Wooded Estatelands
Site Code: 31V02/2
Area: 25.5ha
These woods are ancient woodland, which means they have been continuously wooded since 1600AD. Parts have been replanted with conifers, poplars or a mixture of trees but there are still areas of broadleaved woodland composed of native trees. Such woodland is a national nature conservation priority.
The mature trees of the broad-leaved areas are mainly oak and ash with a shrub layer of hawthorn and hazel. Bracken dominates much of the ground and in the more open areas bluebells are plentiful. Other woodland wildflowers include enchanter's nightshade while in the wetter areas bugle can be seen. The woodland forms a much larger block with woodland to the west, which together provide valuable habitat for birds.



Wooded Estate Slopes and Valley Sides
Site Code: 31X02

Area: 4.6 ha
Holly Court Bank SSSI
Holly Court Bank SSSI is a remnant of limestone grassland which was once an abundant habitat throughout the Cotswolds and is now restricted to the steeper banks such as this. Limestone grassland is a national nature conservation priority due to its rarity.
The site is particularly noted for the large numbers of colourful blue flowered meadow clary, which is a nationally scarce plant with a distribution centred on this part of West Oxfordshire. The population here is the largest in the UK. Other limestone grassland wildflowers include horseshoe vetch, wild thyme, bee orchid, pyramidal orchid and cowslip. Much of the grassland is restricted to small glades in amongst thick hawthorn scrub. The important grassland areas are vulnerable to being smothered by hawthorn scrub and at the moment the scrub is only held in check by rabbit grazing.
Site Code: 31X01
Area: 3.4ha
Whitehill Wood SSSI
Whitehill Wood is ancient woodland, which means it has been continuously wooded since 1600AD. It lies on the valley sides above the River Evenlode. It has important remnants of uncommon woodland types though it has been affected by replanting with ash and cherry and the loss of much wych elm through Dutch elm disease. Mixed broadleaved woodland such as this is a national nature conservation priority.
The woodland has a good variety of woodland wildflowers including yellow archangel, nettle-leaved bellflower, wood spurge, woodruff and primrose. Amongst the invertebrates recorded here is a nationally rare snail.
Area: 5.3ha
Sturt Copse SSSI
A feature of the steep southern slopes of parts of the Evenlode Valley is the ancient hanging woodlands which include Sturt Copse. It is classed as ancient because it has been continuously wooded for over 400 years. The wood has a typical composition for such old woodlands with ash and wych elm coppice* and large oak trees. Woodland with a large amount of wych elm is uncommon and this type of woodland is a national priority for nature conservation.
On the ground there is a variety of woodland wildflowers. There is an abundance of dog's mercury and ransoms (wild garlic) along with the unusual parasitic toothwort, the uncommon yellow star-of-Bethlehem. In the wetter areas opposite-leaved golden saxifrage is found. Sturt Copse has a number of uncommon ferns.
*Coppicing is a traditional form of management where small multi-stemmed trees and shrubs are cut down to the ground at regular intervals producing a harvest of small branches.