Districts:
West Oxfordshire Parishes
Minster Lovell
This map highlights the landscape types within the parish you selected, and its associated local character areas. You can click on any area of the map for a description of its landscape character and biodiversity. Please note that local character areas can cover large areas of the countryside, and may include several parishes, so the description may not be specific to this parish. If there are any wildlife habitats within the parish their descriptions can be found by scrolling to the bottom of this page.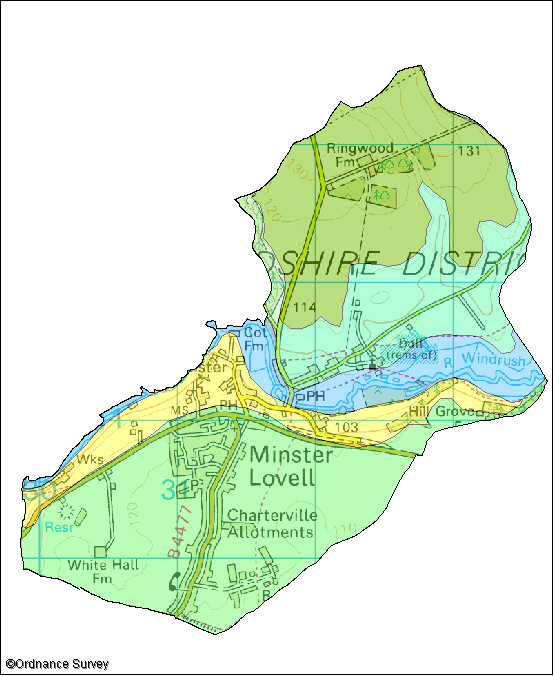 The following wildlife habitats fall within this parish. They are listed according to their associated landscape type or local character area.
If you want more information about any of the sites of special scientific interest (SSSIs) listed below, take a look at English Nature's Nature on the Map website. It may also be possible to find out a bit more about the unnamed wildlife habitats in the parish by contacting the Thames Valley Environmental Records Centre (owls@oxfordshire.gov.uk) and quoting the site code next to the habitat description.
The majority of these wildlife habitats are on private land and access to them is not possible without permission of the landowner, unless there is a statutory right of way. However, many wildlife habitats in the county are open to the public. More information on these can be obtained from the Oxfordshire Nature Conservation Forum.
Wildlife Habitats
Estate Farmlands
Site Code: 30E01
Area: 0.5ha
Worsham Lane SSSI
Worsham Lane is an old hedge-lined green lane just south of Witney. The lane verges support one of the largest British populations of downy woundwort, which is very rare. It is therefore a national priority for nature conservation as well as being strictly protected under the Wildlife and Countryside Act 1981. Downy woundwort is particularly associated with ancient tracks in West Oxfordshire.
Site Code: 31F03
Area: 3.2ha
This site lies on the slopes of the River Windrush valley. It is not ancient woodland but has the typical composition of old woodland with native broadleaved trees and shrubs except for two areas of larch and spruce plantation. This type of woodland is a national nature conservation priority.
The woodland is dominated by mature trees of oak and ash with some field maple and bird cherry. The shrub layer is very varied with hazel, spindle, wayfaring tree, dogwood, buckthorn and crab apple. The ground has a carpet of dog's mercury with an abundance of bluebells. Other woodland wildflowers that can be seen include greater butterfly orchid, primrose, sanicle and wood anemone. A good range of birds is found here including bullfinch, which is a national nature conservation priority, barn owl, tawny owl, marsh tit and green woodpecker.

Farmland Slopes and Valley Sides
Site Code: 31A06
Area: 5.3ha
This site is a bank of limestone grassland on the southern valley side of the River Windrush. It supports a rich variety of wildflowers. Such habitat is a national priority for nature conservation.
This site is particularly important for the very large population of green-winged orchids. With numbers in the thousands, this is one of the largest populations in Oxfordshire. Other wildflowers that can be seen here include wild thyme, which is particularly abundant on the anthills, yellow-wort, common centaury, cowslip and also adder's tongue fern, which is more often associated with wet grassland sites.
River Meadowlands
Site Code: 21V01/6
Area: 4.8ha
This site is a disused fishpond and a poplar plantation in the Windrush Valley. The fishpond has largely silted up and has been colonised by plants to become a wetland habitat. There are also remnants of wetland habitat under the poplars that shade the wetland below and also dry it out. The variety of wetland species in this part of the site has declined over the years. Wetland habitats such as these are a national priority for nature conservation.
Wetland wildflowers that can be seen here include ragged robin, water mint, yellow flag, purple loosestrife and creeping jenny. In the past orchids and marsh marigold have been seen in the poplar plantation. A number of uncommon insects have also been recorded at the site including the nationally scarce scarlet tiger moth.
Site Code: 21V01/9
Area: 4ha
This site consists of two wet riverside meadows that are grazed by cattle. The southern meadow is the wettest part of the site and supports tall wetland vegetation known as swamp because it is regularly inundated with water. Large sedges and reed grass dominate. Amongst this are patches of smaller sedges and rushes. Similar habitat can be seen in the southern half of the northern meadow. This type of wetland habitat is a national nature conservation priority.
Wildflowers that can be seen here include marsh marigold, ragged robin, lesser spearwort, marsh bedstraw, cuckooflower and yellow flag iris. Some common reed has established and reed sweet-grass is abundant in the ditches. The eastern end of the site has wet grassland with tussocky grasses.
Towards the river bank the site is much drier which is quite typical along rivers and is usually due to river dredgings being spread on the field edge in the past. This area lacks the wetland species found elsewhere in the site.
Site Code: 21V01/7
Area: 8.5 ha
This group of meadows were chosen as a County Wildlife Site due to their value for wading birds such as redshank and snipe. However, such species are now rarely seen nesting along the river valleys in Oxfordshire and the grassland habitat at Minster Lovell is no longer particularly suitable.
Much of the grassland has a limited range of grassland species that is typical of heavily grazed pastures. However in the western meadows there are remnants of richer grassland where species such as great burnet, ragged robin and marsh marigold can be seen. There is also a pond in this part of the site with a good range of aquatic plants and the uncommon native black poplar is present in on of the hedgerows.
Further east there is an area of meadowland that is reverting to wildflower rich grassland after having been ploughed in the past. This meadow has an abundance of yellow rattle and marsh marigold along with ragged robin, meadowsweet and cuckooflower. There are also tussocks of tufted hair grass and rushes that are more typical plants of the type of habitat preferred by wading birds.