Districts:
West Oxfordshire Parishes
Ducklington
This map highlights the landscape types within the parish you selected, and its associated local character areas. You can click on any area of the map for a description of its landscape character and biodiversity. Please note that local character areas can cover large areas of the countryside, and may include several parishes, so the description may not be specific to this parish. If there are any wildlife habitats within the parish their descriptions can be found by scrolling to the bottom of this page.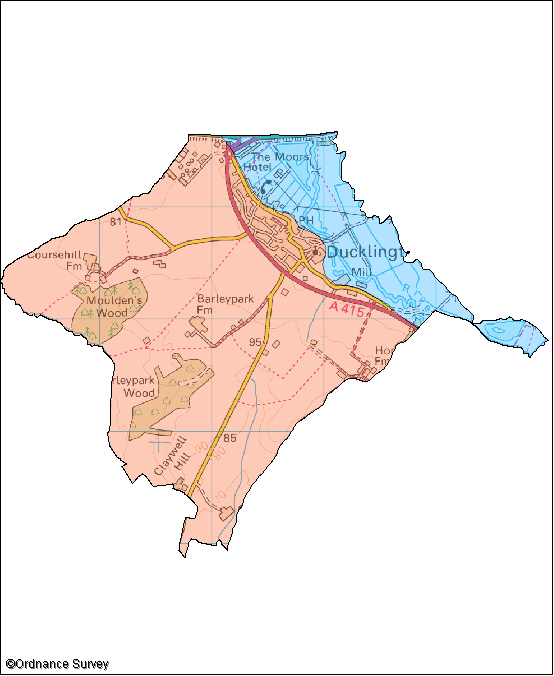 The following wildlife habitats fall within this parish. They are listed according to their associated landscape type or local character area.
If you want more information about any of the sites of special scientific interest (SSSIs) listed below, take a look at English Nature's Nature on the Map website. It may also be possible to find out a bit more about the unnamed wildlife habitats in the parish by contacting the Thames Valley Environmental Records Centre (owls@oxfordshire.gov.uk) and quoting the site code next to the habitat description.
The majority of these wildlife habitats are on private land and access to them is not possible without permission of the landowner, unless there is a statutory right of way. However, many wildlife habitats in the county are open to the public. More information on these can be obtained from the Oxfordshire Nature Conservation Forum.
Wildlife Habitats

Lowland Village Farmlands
Site Code: 30N02
Area: 20.9ha
This site is one of a group of good sized ancient woodlands lying on the gentle western slopes of the Lower Windrush Valley. An ancient woodland is defined as a site that has been continuously wooded since 1600AD.
The wood has the typical composition of old woodland trees with a canopy of mature oak trees and much hazel coppice in the shrub layer. Such woodland is a national nature conservation priority. The Wood supports a good range of attractive woodland wildflowers including greater butterfly orchid, yellow archangel, wood anemone and primrose.
Site Code: 30N01
Area: 27 ha
This site is ancient woodland which means it has been continuously wooded since 1600AD. Large parts of the site have lost the typical woodland structure of native broadleaved trees and shrubs which have been replaced with conifer plantations. However, there are areas of typical old woodland with a mature oak and ash trees and field maple and hazel coppice* in the shrub layer. Broadleaved ancient woodland is a national nature conservation priority.
In the broadleaved woodland and along the tracks a good variety of woodland wildflowers can be seen. These include the rarely seen columbine, which is the wild form of the garden plant, greater butterfly orchid, moschatel, wood anemone and yellow archangel. Climbing corydalis, a plant found at only eight locations in Oxfordshire, is present. At present little is known about the birds and insects except that buzzards nest here.
*Coppicing is a traditional management technique where the stools are cut to the ground on a regular basis to produce a harvest of thin branches. This opens up the woodland and is vary beneficial for wildflowers and insects such as some butterflies.
River Meadowlands
Site Code: 30T01
Area: 5.6ha
Ducklington Mead SSSI
Ducklington Mead is one of the few meadows in the Lower Windrush Valley to have escaped agricultural improvement through the use of fertilizer and herbicides or through ploughing and reseeding. Hay meadows such as this are a national nature conservation priority.
The rare snake's-head fritillary, a species mainly found in a few sites along the Thames, occurs here and these are the basis of a local springtime festival at Ducklington. Other grassland wildflowers that can be seen here include greater burnet, cowslip, betony and dropwort.