Districts:
West Oxfordshire Parishes
Cassington
This map highlights the landscape types within the parish you selected, and its associated local character areas. You can click on any area of the map for a description of its landscape character and biodiversity. Please note that local character areas can cover large areas of the countryside, and may include several parishes, so the description may not be specific to this parish. If there are any wildlife habitats within the parish their descriptions can be found by scrolling to the bottom of this page.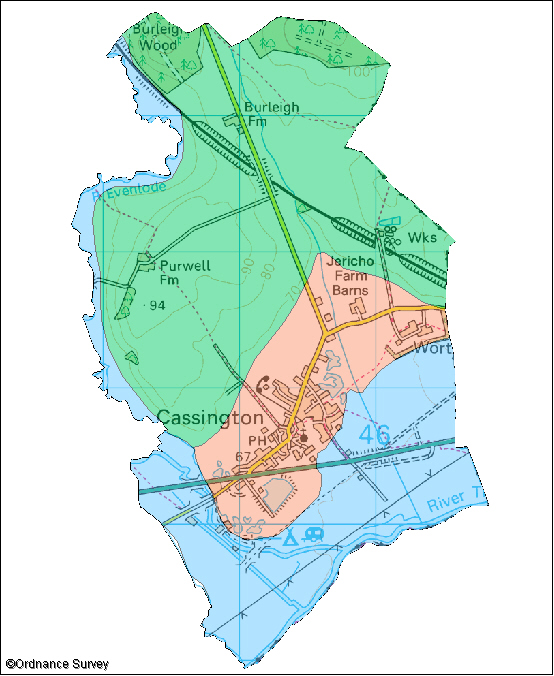 The following wildlife habitats fall within this parish. They are listed according to their associated landscape type or local character area.
If you want more information about any of the sites of special scientific interest (SSSIs) listed below, take a look at English Nature's Nature on the Map website. It may also be possible to find out a bit more about the unnamed wildlife habitats in the parish by contacting the Thames Valley Environmental Records Centre (owls@oxfordshire.gov.uk) and quoting the site code next to the habitat description.
The majority of these wildlife habitats are on private land and access to them is not possible without permission of the landowner, unless there is a statutory right of way. However, many wildlife habitats in the county are open to the public. More information on these can be obtained from the Oxfordshire Nature Conservation Forum.
Wildlife Habitats

Lowland Village Farmlands
Site Code: 41K04
Area: 15.4ha
This site is an old disused gravel pit. Of the three areas of water that were left when gravel extraction finished in the 1950s two are now completely filled with beds of common reed. Between these areas there are areas of wet willow and birch scrub and woodland. These habitats are a national nature conservation priority.
The site is particularly important for birds. Reed bunting and song thrush, both national nature conservation priorities, nest here. Water rail has regularly nested in the past and there are good numbers of reed and sedge warbler. The rare bittern has been an occasional winter visitor.

Site Code: 41K07
Area: 5ha
This disused gravel pit has a number of pools of water with wooded areas between. The pools have shallow areas where plants that live in water are found along with wetland species. These include water lilies, yellow flag iris, marsh horsetail and the uncommon mare's-tail. Rich areas of water such as this are a national priority for nature conservation. The site supports a good range of dragonflies and damselflies. The nationally scarce club-tailed dragonfly has been seen here.
Fringing the pools and on the land between there are many willows along with birch, hawthorn and dogwood. There are open grassy areas where colourful wildflowers such as oxeye daisy can be seen. Common spotted orchids have been seen here in the past.

River Meadowlands
Site Code: 41Q02
Area: 7.03ha
Cassington Meadows SSSI
Cassington Meadows lie next to Thames south of Cassington village. The meadows have not been agriculturally improved through the use of herbicides and fertilizers or through ploughing and reseeding. Consequently the meadows are rich in wildflowers. There is also an area of tall wetland vegetation dominated by reed grasses. Both habitats are national priorities for nature conservation.
Wildflowers found here include great burnet, dropwort, meadowsweet, adder's tongue fern and cowslip. The meadows are surrounded by tall hawthorn hedgerows with many willows which are also found along the river bank.
Wooded Estatelands
Site Code: 41L01
Area: 38.6ha
This site is a good sized ancient woodland which means the site has been continuously wooded since at least 1600AD. Most of the woodland has been replanted with conifers and an area of beech. However the remains of the old oak woodland can still be found in strips along the wood edge, in the south east corner and along the wide woodland tracks. Such woodland is a national priority for nature conservation.
There is a good variety of woodland plants associated with old woodland. The uncommon wild service tree is found along on of the tracks. Bluebells form carpets on the ground in the spring. Other woodland wildflowers present include early purple orchid and primrose. The white admiral butterfly has been recorded here recently.