Districts:
Vale of White Horse Parishes
Uffington
This map highlights the landscape types within the parish you selected, and its associated local character areas. You can click on any area of the map for a description of its landscape character and biodiversity. Please note that local character areas can cover large areas of the countryside, and may include several parishes, so the description may not be specific to this parish. If there are any wildlife habitats within the parish their descriptions can be found by scrolling to the bottom of this page.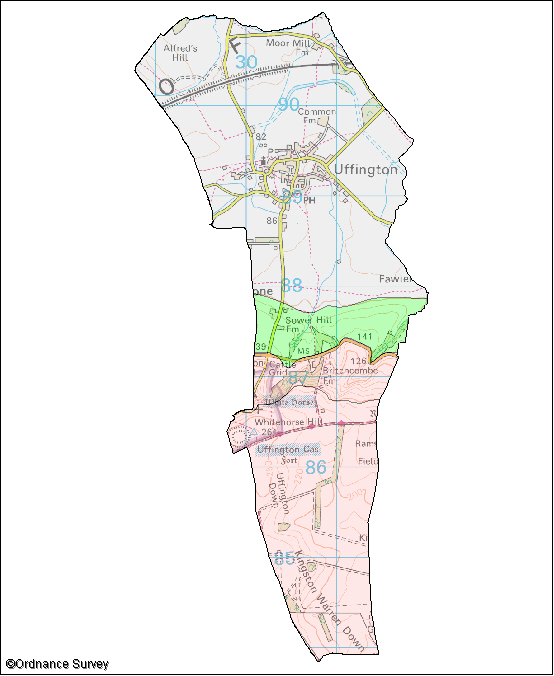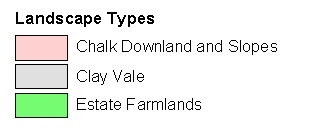 The following wildlife habitats fall within this parish. They are listed according to their associated landscape type or local character area.
If you want more information about any of the sites of special scientific interest (SSSIs) listed below, take a look at English Nature's Nature on the Map website. It may also be possible to find out a bit more about the unnamed wildlife habitats in the parish by contacting the Thames Valley Environmental Records Centre (owls@oxfordshire.gov.uk) and quoting the site code next to the habitat description.
The majority of these wildlife habitats are on private land and access to them is not possible without permission of the landowner, unless there is a statutory right of way. However, many wildlife habitats in the county are open to the public. More information on these can be obtained from the Oxfordshire Nature Conservation Forum.
Wildlife Habitats
Chalk Downland and Slopes
Site code: 38D01
Area: 103.2 ha
White Horse Hill SSSI
There is perhaps nothing more evocative of the chalk downland of Southern England than the large figures carved into the chalk on prominent slopes. The white horse figure here gives its name not just to the hill but the vale, which it overlooks. These figures are usually carved on steep banks and it is here that some of the best remaining areas of chalk grassland habitat are found. This is one of the largest remaining areas on the Berkshire Downs escarpment. Chalk grassland is a national nature conservation priority due to its rarity.
Typically for chalk downland turf there is an abundance of small wildflowers including the rare Chiltern gentian, clustered bellflower and fragrant and pyramidal orchids. Butterflies that can be seen here include chalkhill blue, marbled white and brown argus.
The site also includes Uffington Wood which is ancient woodland. This means it has been continuously wooded since 1600AD. It has a canopy of ash with hazel below and a ground layer with much dog's mercury and nettle. The uncommon herb Paris is found here.
White Horse Hill is also notified as an SSSI because of the presence of dry valleys known as coombes. The Manger coombe is a particularly fine and large example.
Site Code: 38C03
Area: 10ha
This site supports chalk grassland which was once more common in the Berkshire Downs. It is now restricted to steep banks and a few other sites including areas such as this at the edge of racehorse gallops. Chalk grassland is a national priority for nature conservation.
The shorter areas along mown tracks have the greatest variety of wildflowers including pyramidal orchid, small scabious, yellow rattle and fairy flex. Much of the grassland is tall and unmanaged and these areas have less wildflowers. Butterflies are abundant and include marbled white, ringlet and skippers. Skylarks use the site and may nest here. Skylark is a national priority for nature conservation due to the rapid decline in its UK population.
Clay Vale
Site Code: 29V04
Area: 21.9ha
Fernham Meadows SSSI
Fernham Meadows SSSI has a mixture of rich neutral grassland and wet marshy areas with fen habitat. Both habitats are national nature conservation priorities. Meadows such as this have escaped agricultural improvement through the use of herbicides and fertilizers and have not been ploughed and reseeded.
Grassland wildflowers include betony, devil's-bit scabious, dropwort and the spineless meadow thistle. The fen areas have an abundance of rushes and sedges and wetland wildflowers including marsh valerian and ragged robin. The site also includes a small area of woodland. This has blackthorn scrub at the edge that supports the most westerly British population of the rare black hairstreak butterfly.