Districts:
Vale of White Horse Parishes
Kennington
This map highlights the landscape types within the parish you selected, and its associated local character areas. You can click on any area of the map for a description of its landscape character and biodiversity. Please note that local character areas can cover large areas of the countryside, and may include several parishes, so the description may not be specific to this parish. If there are any wildlife habitats within the parish their descriptions can be found by scrolling to the bottom of this page.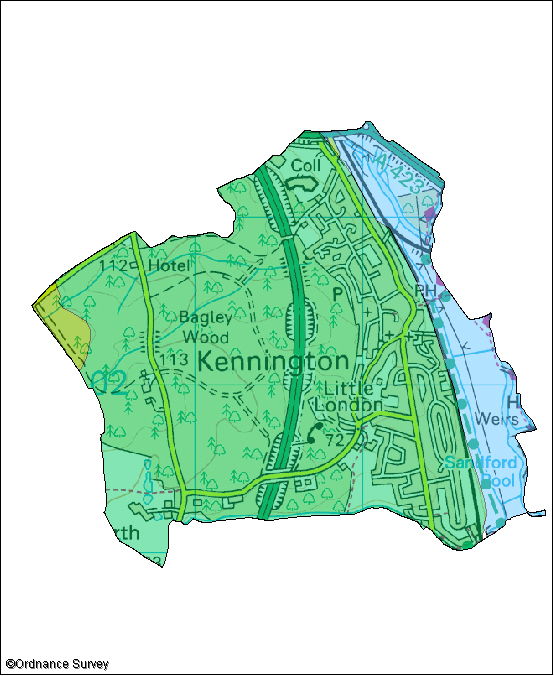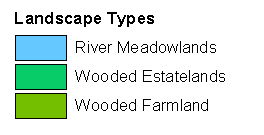 The following wildlife habitats fall within this parish. They are listed according to their associated landscape type or local character area.
If you want more information about any of the sites of special scientific interest (SSSIs) listed below, take a look at English Nature's Nature on the Map website. It may also be possible to find out a bit more about the unnamed wildlife habitats in the parish by contacting the Thames Valley Environmental Records Centre (owls@oxfordshire.gov.uk) and quoting the site code next to the habitat description.
The majority of these wildlife habitats are on private land and access to them is not possible without permission of the landowner, unless there is a statutory right of way. However, many wildlife habitats in the county are open to the public. More information on these can be obtained from the Oxfordshire Nature Conservation Forum.
Wildlife Habitats
River Meadowlands
Site Code: 50B01
Area: 0.85ha
This site was dug in the 19th century as a borrow pit for the construction of the railway. The site is a large pond surrounded by woodland and scrub. There are many wetland plants at the margins including areas with reeds.
The importance of this site became apparent when the very rare glutinous snail was found here, though it has not been seen recently. It still supports a diverse range of invertebrates with many having a restricted national distribution. Damselflies are a regular sight flying over the pond and settling in the marginal vegetation. Kingfishers often visit the site. Wetland wildflowers include the colourful purple loosestrife, yellow flag iris, meadowsweet and marsh woundwort. Bluebells can be seen under the trees which include many willows, ash and alder.
Site Code: 50F01
Area: 2.4ha
This site is an island lying between two channels of the River Thames. It has a good area of reedbed habitat and other more mixed tall wetland vegetation. Both are national priorities for nature conservation and rare in Oxfordshire. There are also areas of willow scrub (known as carr) at the edge.
Reedbeds and tall wetland habitat is usually important for birds. Reed bunting, a national priority species, is found here along with reed warbler and Cetti's warbler. A number of invertebrates with a restricted national distribution have been recorded here including the banded demoiselle damselfly. There is a good variety of wetland wildflowers including common valerian, meadow rue, the uncommon marsh stitchwort and purple loosestrife.
Wooded Estatelands
Site Code: 50B05
Area: 217.4ha
This site is very large area of ancient woodland which means the site has been continuously wooded for at least 400 years. The wood is very mixed with large parts having been replanted with conifers and broadleaved trees. However significant parts of the wood retain the composition of old woodland with native trees and shrubs and a rich mixture of woodland wildflowers on the ground. Such woodland is a national priority for nature conservation.
Much of this old woodland has a canopy of oak. There are many bluebells on the ground though because the soils are quite acidic there is also lots of bracken. Other wildflowers found here include wood anemone, wild strawberry and wood sorrel. The wood is an important site for birds and is the only local site where goshawks nest regularly. Buzzards also breed here. All three species of woodpecker and marsh tit are also found here.
Site Code: 50F06
Area: 3ha
This field has a mixture of grassland habitats. The richest area is the limestone grassland on the steepest part of the site. This has large anthills which is a sign of a long period without disturbance although the field was used as a golf course for a while. Limestone grassland is a national priority for nature conservation.
Wildflowers found here include bee orchid, salad burnet and wild basil. There are also areas of scrub on the slopes where mistletoe grows. This is an unusual sight in Oxfordshire. The flatter parts of the field are more neutral in character and less rich in wildflowers. Marbled white and common blue butterflies can be seen in the field.