Districts:
Vale of White Horse Parishes
Eaton Hastings
This map highlights the landscape types within the parish you selected, and its associated local character areas. You can click on any area of the map for a description of its landscape character and biodiversity. Please note that local character areas can cover large areas of the countryside, and may include several parishes, so the description may not be specific to this parish. If there are any wildlife habitats within the parish their descriptions can be found by scrolling to the bottom of this page.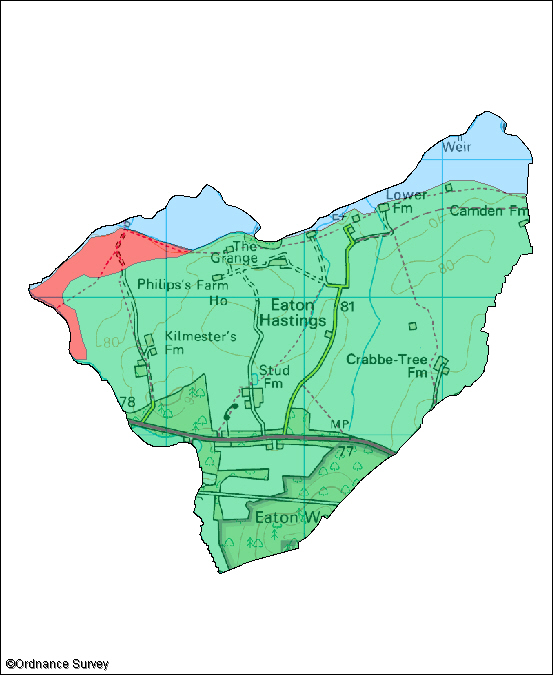 The following wildlife habitats fall within this parish. They are listed according to their associated landscape type or local character area.
If you want more information about any of the sites of special scientific interest (SSSIs) listed below, take a look at English Nature's Nature on the Map website. It may also be possible to find out a bit more about the unnamed wildlife habitats in the parish by contacting the Thames Valley Environmental Records Centre (owls@oxfordshire.gov.uk) and quoting the site code next to the habitat description.
The majority of these wildlife habitats are on private land and access to them is not possible without permission of the landowner, unless there is a statutory right of way. However, many wildlife habitats in the county are open to the public. More information on these can be obtained from the Oxfordshire Nature Conservation Forum.
Wildlife Habitats
River Meadowlands
Site Code: 30K01/1
Area: 11.1ha
Grafton Lock Meadow SSSI
Unlike most of the grassland along the Thames in this part of Oxfordshire, Grafton Lock Meadow has not been agriculturally improved either through ploughing and reseeding or through the application of fertilizers and herbicides. It has been managed for a long time as a hay meadow with grazing in the autumn. Meadows such as this are a national priority for nature conservation.
The site supports a good range of meadow wildflowers including a good population of the very rare snake's-head fritillary, which is mainly found in a few meadows along or near to the Thames. Other wildflowers that can be seen here include meadow rue, yellow rattle, cowslip, pepper saxifrage and the adder's tongue fern.
Wooded Estatelands
Site Code: 29N02/1
Area: 1.1ha
This is an area of old elm wood where most of the elms have died due to Dutch elm disease. Now ash, oak, hawthorn, spindle and field maple dominate most of this area, though some relatively healthy elms are present.
There are wide woodland tracks (known as rides) that support a good variety of those woodland wildflowers associated with long established and ancient woodland. In addition these rides have wildflowers associated with grassland areas that have been unaffected by modern agriculture. The rich flora includes greater butterfly orchid, water avens, early purple orchid, the unusual adder's tongue fern, ragged robin and yellow rattle.