Districts:
Vale of White Horse Parishes
Cumnor
This map highlights the landscape types within the parish you selected, and its associated local character areas. You can click on any area of the map for a description of its landscape character and biodiversity. Please note that local character areas can cover large areas of the countryside, and may include several parishes, so the description may not be specific to this parish. If there are any wildlife habitats within the parish their descriptions can be found by scrolling to the bottom of this page.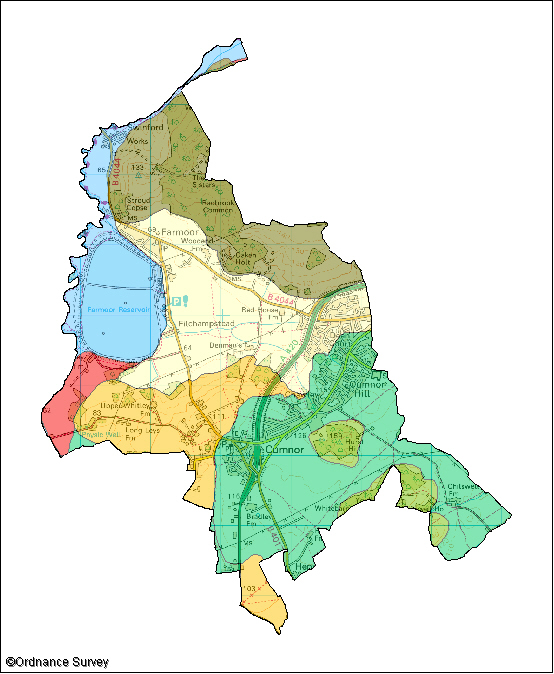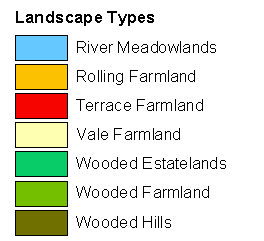 The following wildlife habitats fall within this parish. They are listed according to their associated landscape type or local character area.
If you want more information about any of the sites of special scientific interest (SSSIs) listed below, take a look at English Nature's Nature on the Map website. It may also be possible to find out a bit more about the unnamed wildlife habitats in the parish by contacting the Thames Valley Environmental Records Centre (owls@oxfordshire.gov.uk) and quoting the site code next to the habitat description.
The majority of these wildlife habitats are on private land and access to them is not possible without permission of the landowner, unless there is a statutory right of way. However, many wildlife habitats in the county are open to the public. More information on these can be obtained from the Oxfordshire Nature Conservation Forum.
Wildlife Habitats
River Meadowlands
Site Code: 40I01
Area: 1.7ha
This site is an area of woodland and a section of old river channel that partially, though not completely, cuts it off from the surrounding land. There is a small area of wet willow woodland in the site. The channel has areas of reedbed and other tall wetland habitat with sedges, reed-grass and rushes. All these habitats are national nature conservation priorities. The rest of the woodland is drier with ash, hawthorn, willow and a little oak.
Skinner's Island provides good habitat for birds. These include reed bunting and bullfinch which are both national priorities for nature conservation. Other birds seen here include reed warbler, blackcap and great crested grebe. A number of invertebrates with a restricted distribution have been recorded here. There is a good variety of wetland wildflowers including the colourful marsh marigold, purple loosestrife, common valerian and yellow loosestrife.
Site Code: 40N01
Area: 191ha
This large area of open water attracts good numbers of wildfowl that winter in the UK. The large size reduces the effects of human disturbance this is an important factor that affects the value of open water sites for birds. There are rafts in the water to encourage nesting birds. There are used by terns and black-headed gulls.
At the edge of the reservoir there are a variety of other habitats. The most important is a series of shallow pools and islands which over a short period has become very valuable for birds and also invertebrates that live in water. Little ringed plover, redshank and lapwing nest here and over twenty rare aquatic invertebrates have been recorded. In winter, snipe and water rail use this area. Most of these birds are classed as birds of conservation concern.
Rolling Farmland
Site Code: 40M07
Area: 4.5ha
This site consists of two hay meadows which have a rich variety of wildflowers, grasses and sedges. They have largely escaped agricultural improvement through the use of herbicides and fertilizers or through ploughing and reseeding. Such meadows are a national priority for nature conservation.
These meadows have an interesting mix of wildflowers including species associated with more acidic conditions, such as lesser stitchwort, and sloping areas on lime rich soils where limestone grassland plants found. Other grassland species present include adder's tongue fern and common spotted orchid. There are also wet areas with common fleabane and bugle.
Site Code: 40S02
Area: 1.7ha
This field has banks of dry grassland with a spring and stream bordered by marshy habitat dominated by rushes and sedges. This type of wetland habitat is a national priority for nature conservation.
Wetland wildflowers found here include marsh marigold, ragged robin and the uncommon marsh arrowgrass. Along the stream the tall and rather primeval looking giant horsetail can be seen. Cowslips are found in the drier grassland.
Terrace Farmland
Site Code: 40M04
Area: 5ha
This site is one of a group of small ancient woodland sites south of Farmoor. Sites that have been continuously wooded since 1600AD are classed as ancient. The wood is mainly composed of native broadleaved trees though there has been some planting of non-native trees and shrubs. Broadleaved ancient woodland is a national nature conservation priority.
The canopy is mainly oak and ash with some field maple and silver birch. The shrub layer has a good mix of species including spindle, privet, guelder rose and wayfaring tree. There are carpets of bluebells on the ground along with much dog's mercury which is typical of old woodland. Other woodland wildflowers present include primrose, early purple orchid and greater butterfly orchid and there are wet areas with bugle and meadowsweet.
Site Code: 40M06
Area: 5ha
This site is one of a group of small ancient woodland sites south of Farmoor. Sites that have been continuously wooded since 1600AD are classed as ancient. The wood is composed of native broadleaved trees and shrubs. Such woodland is a national nature conservation priority.
The woodland canopy is composed of oak, ash and field maple. There are areas of old neglected hazel and ash coppice*. On the ground there are good patches of bluebells. Other woodland wildflowers seen here include early purple orchid and wood anemone.

*Coppicing is a traditional form of management where small multi-stemmed trees and shrubs are cut down to the ground at regular intervals producing a harvest of small branches. This type of management is highly beneficial for woodland plants and animals.
Wooded Estatelands
Site Code: 40R04
Area: 0.2ha
Cumnor SSSI
This is one of a number of old quarries in Oxfordshire where quarrying has exposed rock formations and the fossils contained within them which are important to the understanding of geological history. The exposure here is of Corallian rocks which contains many ammonite fossils.
Site Code: 40S03
Area: 3.2ha
Much of this sloping field has dry limestone grassland and also a number of flushes with marshy habitat. The flushes form where springs rise and water spreads over the surface. Both habitats are national nature conservation priorities.
The marshy areas are dominated by rushes and sedges. Wildflowers present here include ragged robin, common spotted orchid and water mint. More orchids are found in the limestone grassland along with fairy flax, salad burnet, cowslips and yellow rattle.
Site Code: 40S13
Area: 3.3ha
This site is ancient woodland occupying a steep sided valley on the slopes of Cumnor Hill. Sites that have been continuously wooded for at least 400 years are classified as ancient. The woodland is a mixture of broadleaved species. Such woodland is a national priority for nature conservation.
Woodland wildflowers found here include bluebell, wood anemone, the unusual and parasitic toothwort and common dog violet. A stream rises from a spring in the wood and wetland wildflowers are present along it. These include marsh marigold and the tall giant horsetail which has a somewhat primeval appearance.