Districts:
South Oxfordshire Parishes
Whitchurch-on-Thames
This map highlights the landscape types within the parish you selected, and its associated local character areas. You can click on any area of the map for a description of its landscape character and biodiversity. Please note that local character areas can cover large areas of the countryside, and may include several parishes, so the description may not be specific to this parish. If there are any wildlife habitats within the parish their descriptions can be found by scrolling to the bottom of this page.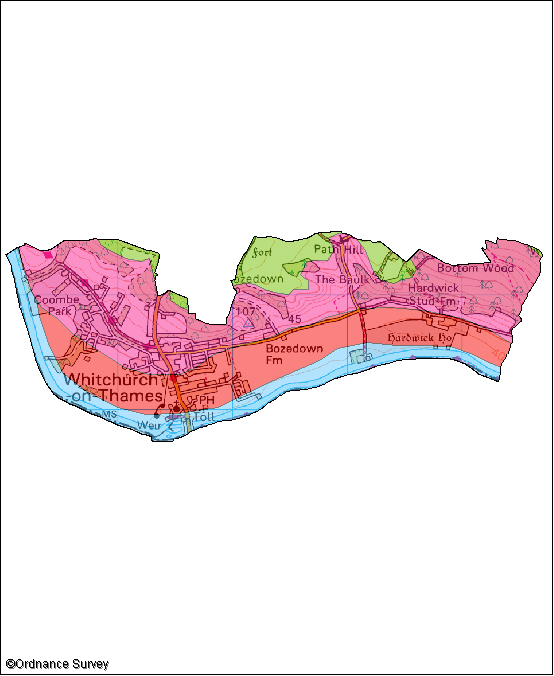 The following wildlife habitats fall within this parish. They are listed according to their associated landscape type or local character area.
If you want more information about any of the sites of special scientific interest (SSSIs) listed below, take a look at English Nature's Nature on the Map website. It may also be possible to find out a bit more about the unnamed wildlife habitats in the parish by contacting the Thames Valley Environmental Records Centre (owls@oxfordshire.gov.uk) and quoting the site code next to the habitat description.
The majority of these wildlife habitats are on private land and access to them is not possible without permission of the landowner, unless there is a statutory right of way. However, many wildlife habitats in the county are open to the public. More information on these can be obtained from the Oxfordshire Nature Conservation Forum.
Wildlife Habitats
River Meadowlands
Site Code: 67I01
Area: 5.5ha
This wet riverside field supports mixed tall wetland vegetation with many rushes, reed grasses, tall and short sedges and an abundance of the creamy flowered meadowsweet. This type of habitat is known as swamp as it regularly inundated by water. Wetland of this type is a national priority for nature conservation. There are also drier areas of grassland more typical of flower rich meadows.
The site has a great variety of wetland and grassland wildflowers. These include marsh orchids, marsh marigold, ragged robin, cowslip, devil's-bit scabious, meadow crane's-bill and common valerian. The site attracts a good variety of dragonflies and damselflies.
Wooded Estate Slopes and Valley Sides
Site Code: 67T01
Area: 4.5ha
This is a group of fields on the southern Chilterns escarpment. The steeper parts of the site have chalk grassland habitat which is mainly restricted to banks such as this. Chalk grassland is a national priority for nature conservation.
Typically for chalk grassland there is an abundance of small colourful wildflowers including bee and pyramidal orchids, wild thyme and clustered bellflower. There are clumps of trees in the site where woodland wildflowers such as white helleborine are found. A good range of butterflies can be seen here including common blue, green hairstreak and small heath.
Site Code: 67J10
Area: 1.7ha
This site lies near the top of the southern Chiltern escarpment. It is an area of chalk grassland which is a national priority for nature conservation. This site has been ploughed in the past and has been left to revert to chalk grassland. It is not as rich in wildflowers as the other chalk grasslands in the area. Wildflowers that can be seen here include salad burnet, fairy flax and restharrow.
Site Code: 67P01
Area: 14.1ha
This site is a bank of chalk grassland on the southern Chiltern escarpment. Chalk grassland is now mainly restricted to the steeper banks such as this and is a national nature conservation priority.
This site has many anthills which are associated with old undisturbed grassland. Wildflowers that be seen here include bee orchid, pyramidal orchid, autumn gentian, clustered bellflower, eyebright and cowslip. This gives the chalk grassland its typical appearance with an abundance of small wildflowers. The Adonis blue butterfly, which is a national priority for nature conservation, is found here. The uncommon chalkhill blue is also present. The site is divided by a good ancient species rich hedgerow and both turtle dove and linnet have been recorded here. Both are also national nature conservation priority species.
Site Code: 67P08
Area: 76.1ha
This site is a large area of ancient woodland at the edge of the Chilterns. Ancient woodland means the site has been continuously wooded since at least 1600AD. Much of the site is typical Chilterns beech woodland with little shrub layer and a rich variety of wildflowers on the ground. Some areas have a greater range of trees and shrubs and others have been planted with conifers. Beech woodland and mixed broadleaved woodland are national priorities for nature conservation.
The wood has a particularly good range of wildflowers including very rare orchids and scarce plants such as mezereon. Other wildflowers include bird's nest and early purple orchids, white helleborine and an abundance of bluebells. On the tracks and in the glades chalk grassland with pyramidal orchids is found. The wood is good for birds with nesting birds of prey and a number of uncommon insects have been recorded.
Site Code: 67N01
Area: 4 ha
This steep basin shaped area on the southern Chilterns escarpment supports a rich area of chalk grassland. Chalk grassland is a national nature conservation priority.
A good variety of chalk grassland wildflowers is present including clustered bellflower, autumn gentian, yellow-wort, bee orchid, rock rose, kidney vetch and horseshoe vetch. The latter is particularly important because it is the food plant of the Adonis blue butterfly which is found here. Adonis blue is a national nature conservation priority. Other butterflies present include chalkhill blue and small blue.