Districts:
South Oxfordshire Parishes
Watlington
This map highlights the landscape types within the parish you selected, and its associated local character areas. You can click on any area of the map for a description of its landscape character and biodiversity. Please note that local character areas can cover large areas of the countryside, and may include several parishes, so the description may not be specific to this parish. If there are any wildlife habitats within the parish their descriptions can be found by scrolling to the bottom of this page.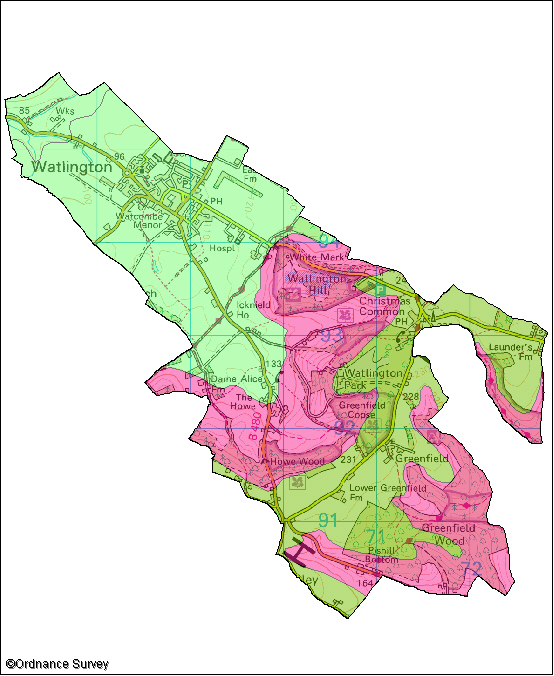 The following wildlife habitats fall within this parish. They are listed according to their associated landscape type or local character area.
If you want more information about any of the sites of special scientific interest (SSSIs) listed below, take a look at English Nature's Nature on the Map website. It may also be possible to find out a bit more about the unnamed wildlife habitats in the parish by contacting the Thames Valley Environmental Records Centre (owls@oxfordshire.gov.uk) and quoting the site code next to the habitat description.
The majority of these wildlife habitats are on private land and access to them is not possible without permission of the landowner, unless there is a statutory right of way. However, many wildlife habitats in the county are open to the public. More information on these can be obtained from the Oxfordshire Nature Conservation Forum.
Wildlife Habitats
Wooded Estate Slopes and Valley Sides
Site Code: 69W01
Area: 1.8ha
This gently sloping field at the foot of the Chilterns escapement has not been agriculturally improved through the use of fertilizers or herbicides or through ploughing and seeding. Therefore it is rich in wildflowers. It is unusual because it is relatively flat for a site that supports chalk grassland and because it is managed by cutting late in the season. This means there is an abundance of very low growing shrubs in the sward.
There is a very good variety of chalk grassland wildflowers in this field. These include pyramidal and common spotted orchids, autumn gentian, abundant yellow rattle and kidney vetch. The field is bounded by species-rich hedgerows.
Site Code: 79B01
Area: 110.8ha
Watlington and Pyrton Hills SSSI
Watlington and Pyrton Hills are found on the Chiltern escarpment just east of Watlington. Watlington Hill is owned by the National Trust. The hills support extensive areas of chalk grassland which is a national priority for nature conservation. Amongst the scrub there is an area of juniper, the small native conifer which has become increasingly rare and is also a national priority for nature conservation. On Pyrton Hill there is an area of yew dominated woodland which is a rare sight and another national priority habitat. A further priority habitat is the acid grassland and heathy vegetation that has developed where rainwater has leached the soil. Heather, tormentil and sheep's sorrel are present in such areas.
The site is particularly important for its range of butterflies included silver-spotted skipper, a national priority species, chalkhill blue, small blue, brown argus, green hairstreak and dark green fritillary. Chalk grassland wildflowers that can be seen here include the nationally scarce candytuft, yellow-wort, horseshoe vetch, kidney vetch, clustered bellflower and dropwort. The site also has a particularly varied range of mosses, liverworts and lichens.