Districts:
South Oxfordshire Parishes
Shirburn
This map highlights the landscape types within the parish you selected, and its associated local character areas. You can click on any area of the map for a description of its landscape character and biodiversity. Please note that local character areas can cover large areas of the countryside, and may include several parishes, so the description may not be specific to this parish. If there are any wildlife habitats within the parish their descriptions can be found by scrolling to the bottom of this page.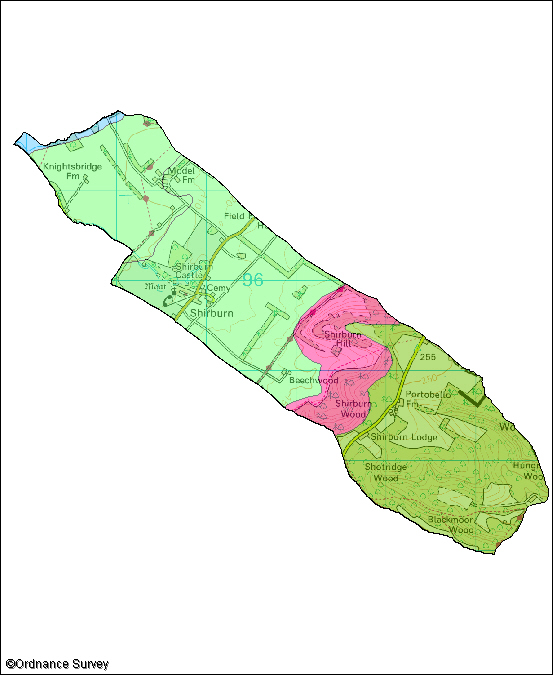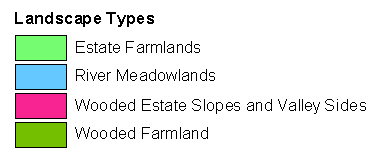 The following wildlife habitats fall within this parish. They are listed according to their associated landscape type or local character area.
If you want more information about any of the sites of special scientific interest (SSSIs) listed below, take a look at English Nature's Nature on the Map website. It may also be possible to find out a bit more about the unnamed wildlife habitats in the parish by contacting the Thames Valley Environmental Records Centre (owls@oxfordshire.gov.uk) and quoting the site code next to the habitat description.
The majority of these wildlife habitats are on private land and access to them is not possible without permission of the landowner, unless there is a statutory right of way. However, many wildlife habitats in the county are open to the public. More information on these can be obtained from the Oxfordshire Nature Conservation Forum.
Wildlife Habitats
Wooded Estate Slopes and Valley Sides
Site Code: 79C01

Area: 64.5ha
Shirburn Hill is one of a number of large areas of chalk grassland on the Chiltern escarpment which help to gives the scarp its distinctive appearance. Chalk grassland is a national nature conservation priority. Other habitats present include beech dominated woodland and acid grassland and heathy vegetation which are also national nature conservation priorities. There are also areas of scrub, ranging from a scattering in the grassland to dense areas and also areas dominated by box.
Juniper, the small native conifer which has become increasingly rare and is also a national priority for nature conservation, is present amongst the scrub. The nationally scarce wildflower wild candytuft is present in the chalk grassland. Other chalk grassland wildflowers found here include rock rose, eyebright, autumn gentian, clustered bellflower and wild thyme. Leaching of the soil has lead to the presence of acid grassland and heather. This type of habitat is called chalk heath and such acidic habitat is very rare in Oxfordshire. Tormentil and sheep's sorrel can be seen in these areas. While box is regularly planted in a few cases it is thought to occur naturally and Shirburn is one of these locations.

Site Code: 79H01
This sloping field lies in the middle of a large area of woodland within the Chilterns. There are a number of large fields similarly located in the middle of woodland areas in the Chilterns. These originated when woodland was cleared to allow the land to be farmed. This area was probably ploughed in the Second World War but since then has reverted to chalk grassland habitat which is a national priority for nature conservation.
There is a very good variety of chalk grassland wildflowers in this field. These include the rare Chiltern gentian which is found in good numbers with over one thousand seen in some years. Other wildflowers present include common spotted orchid, marjoram and eyebright. Butterflies seen here include marbled white and small skipper.