Districts:
South Oxfordshire Parishes
Shiplake
This map highlights the landscape types within the parish you selected, and its associated local character areas. You can click on any area of the map for a description of its landscape character and biodiversity. Please note that local character areas can cover large areas of the countryside, and may include several parishes, so the description may not be specific to this parish. If there are any wildlife habitats within the parish their descriptions can be found by scrolling to the bottom of this page.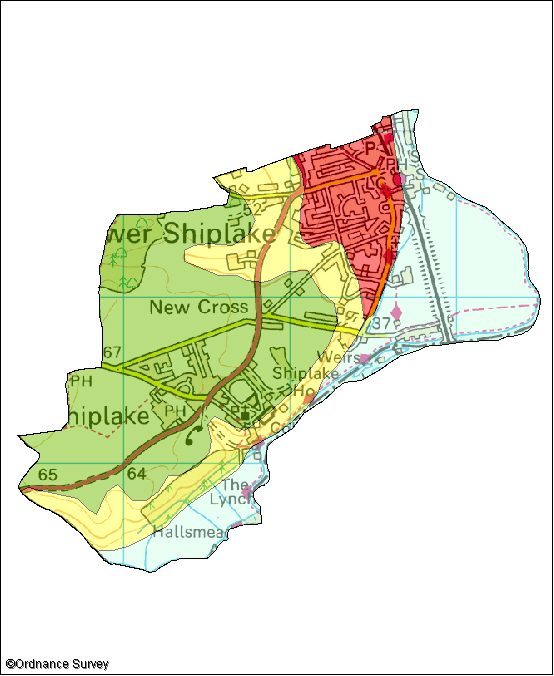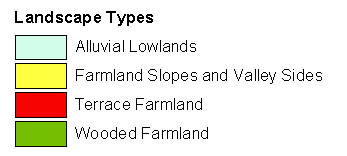 The following wildlife habitats fall within this parish. They are listed according to their associated landscape type or local character area.
If you want more information about any of the sites of special scientific interest (SSSIs) listed below, take a look at English Nature's Nature on the Map website. It may also be possible to find out a bit more about the unnamed wildlife habitats in the parish by contacting the Thames Valley Environmental Records Centre (owls@oxfordshire.gov.uk) and quoting the site code next to the habitat description.
The majority of these wildlife habitats are on private land and access to them is not possible without permission of the landowner, unless there is a statutory right of way. However, many wildlife habitats in the county are open to the public. More information on these can be obtained from the Oxfordshire Nature Conservation Forum.
Wildlife Habitats
Alluvial Lowlands
Site Code: 77T02/1
Area: 0.84ha
This site is small area of tall wetland habitat dominated by tall sedges and reeds. The surrounding ditches have a good variety of wetland plants. Wetlands such as this are a national priority for nature conservation.
Wildflowers that can be seen here include meadow rue, purple loosestrife, ragged robin and marsh marigold. This type of habitat is usually good for birds. Redshank, snipe and sedge warbler have all been seen here.

Farmland Slopes and Valley Sides
Site Code: 77T01
Area: 12.6ha
This site is an area of woodland on a slope above the floodplain of the River Thames. The drier slopes have areas of elder scrub and mixed plantation. The main interest of this site is found at the bottom of the slope where wet willow woodland and reedbed dominated by common reed are found. Both habitats are uncommon in Oxfordshire and are national priorities for nature conservation.
Amongst the wildflowers found in the wet areas is a large population of Lodden lily. This plant is rare and is mainly found along the River Thames in Oxfordshire and Berkshire and along the River Lodden from which it gets its name. A number of nationally scarce invertebrates have also been recorded here.

Wooded Farmland
Site Code: 78F01

Area: 42.4
This site is a large area of parkland with a range of important grassland types. The variation in the underlying rocks and soils means that there are areas of acid, neutral and chalk grassland. The grassland has not been agriculturally improved through the use of herbicides and fertilizers or through ploughing and reseeding. This is due at least in part to the use of the Park as a listening station which means there are many aerials and satellite dishes across the site.
These grassland types are national priorities for nature conservation. Acid grassland is particularly rare in Oxfordshire and this is one of the largest areas of this habitat in the county. The acid areas have wildflowers such as tormentil, harebell and heath bedstraw. The chalk grassland is found in old chalk pits and on a bank at the northern edge. The neutral grassland is still quite acidic in character and here there is abundance of pignut.