Districts:
South Oxfordshire Parishes
Rotherfield Greys
This map highlights the landscape types within the parish you selected, and its associated local character areas. You can click on any area of the map for a description of its landscape character and biodiversity. Please note that local character areas can cover large areas of the countryside, and may include several parishes, so the description may not be specific to this parish. If there are any wildlife habitats within the parish their descriptions can be found by scrolling to the bottom of this page.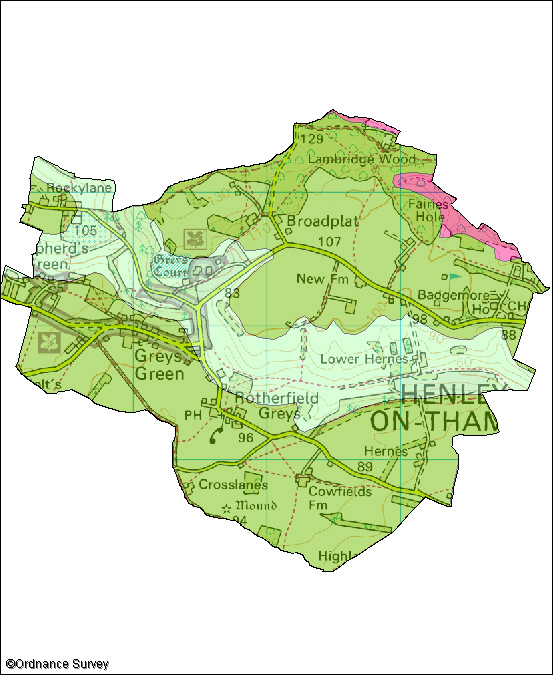 The following wildlife habitats fall within this parish. They are listed according to their associated landscape type or local character area.
If you want more information about any of the sites of special scientific interest (SSSIs) listed below, take a look at English Nature's Nature on the Map website. It may also be possible to find out a bit more about the unnamed wildlife habitats in the parish by contacting the Thames Valley Environmental Records Centre (owls@oxfordshire.gov.uk) and quoting the site code next to the habitat description.
The majority of these wildlife habitats are on private land and access to them is not possible without permission of the landowner, unless there is a statutory right of way. However, many wildlife habitats in the county are open to the public. More information on these can be obtained from the Oxfordshire Nature Conservation Forum.
Wildlife Habitats
Wooded Farmland
Site Code: 78H01
Area: 73.8ha
Lambridge Wood SSSI
Lambridge Wood is a large area of ancient beech woodland with an exceptionally rich flora located in the Chilterns where this type of woodland is particularly characteristic. Sites which have been continuously wooded for at least 400 years are classed as ancient. Beech woodland is a national priority for nature conservation.
Oak, ash cherry and wych elm are commonly found amongst the beech trees. There are many wildflowers indicative of acid soils including heath speedwell, and slender St Johns-wort. Part of the wood has been replanted with beech and conifers. Here there is a wide track where the uncommon tutsan and pale St John's-wort are found. On the calcareous chalk slopes the shrub layer is more mixed than elsewhere in the wood. Here there is a carpet of dog's mercury on the ground along with wildflowers such as sanicle and woodruff. The green-flowered helleborine has also been recorded in the wood.

Wooded Pasture Valleys and Slopes
Site Code: 78F04
Area: 2.4ha
This steep bank has chalk grassland with a scattering of blackthorn scrub. Chalk grassland is now mainly restricted to steeper banks such as this and is a national priority for nature conservation.
Typically for chalk grassland there is a good variety wildflowers including pyramidal orchid, knapweeds, oxeye daisy, fairy flax an cowslip. A lack of grazing at times has meant that some of the smaller chalk grassland wildflowers recorded here in the past have not been seen recently.
Site Code: 78L01

Area: 19.8
This site is a steep sided dry valley with areas of chalk grassland, woodland and scrub. Chalk grassland is now found mainly on steeper banks such as this. The woodland has a mixture of mainly native broadleaved trees and shrubs with much dog's mercury on the ground. This type of woodland and chalk grassland are national priorities for nature conservation.
The grassland has a good variety of wildflowers including autumn gentian, pyramidal orchid, knapweeds, oxeye daisy and yellow-wort. In the woodland sanicle, violets and wild strawberry can be seen. A good range of grassland butterflies has been seen here including the uncommon dark green fritillary, marbled white, small heath and small skipper.