Districts:
South Oxfordshire Parishes
Forest Hill with Shotover
This map highlights the landscape types within the parish you selected, and its associated local character areas. You can click on any area of the map for a description of its landscape character and biodiversity. Please note that local character areas can cover large areas of the countryside, and may include several parishes, so the description may not be specific to this parish. If there are any wildlife habitats within the parish their descriptions can be found by scrolling to the bottom of this page.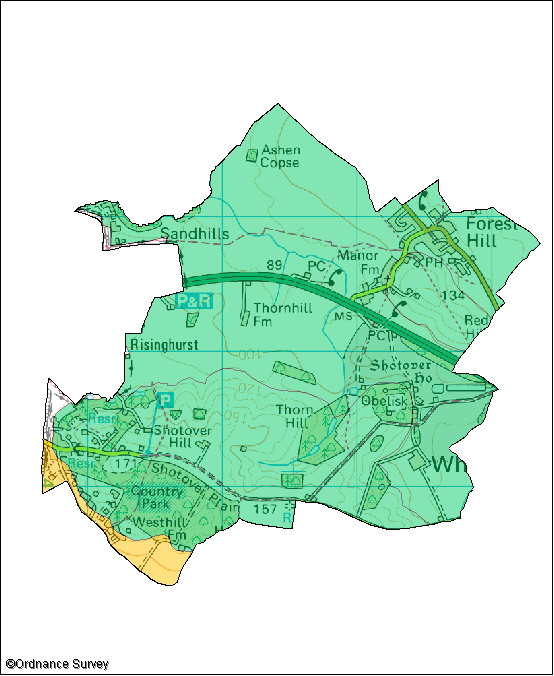 The following wildlife habitats fall within this parish. They are listed according to their associated landscape type or local character area.
If you want more information about any of the sites of special scientific interest (SSSIs) listed below, take a look at English Nature's Nature on the Map website. It may also be possible to find out a bit more about the unnamed wildlife habitats in the parish by contacting the Thames Valley Environmental Records Centre (owls@oxfordshire.gov.uk) and quoting the site code next to the habitat description.
The majority of these wildlife habitats are on private land and access to them is not possible without permission of the landowner, unless there is a statutory right of way. However, many wildlife habitats in the county are open to the public. More information on these can be obtained from the Oxfordshire Nature Conservation Forum.
Wildlife Habitats
Wooded Estatelands
Site Code: 50S01
Area: 109.5ha
Brasenose Wood and Shotover Hill SSSI
This site has a range of habitats including ancient and long established woodland, hay meadows, acid grassland and heathland. Brasenose Wood is ancient woodland which means it has been continuously wooded for at least 400 years. It has a canopy of oak trees with actively managed hazel coppice* in the shrub layer. The other woodlands (Open Magdalen and Open Brasenose) are more recent in origin but have a similar composition to ancient woodland. Such woodland is a national priority for nature conservation.
Shotover Hill is particularly important for its heathland and acid grassland habitats. It is one of the best sites for these habitats in Oxfordshire. Lack of management in the past meant that scrub and trees invaded these habitats and considerable efforts have been made to restore these areas. There are also springs and seepages where marshy flushes are found. At Slade Camp there is flowery neutral grassland managed for hay and pasture. These grassland and heathland habitats are also national priorities for nature conservation. Shotover Hill is particularly important for its invertebrates with many rare species especially solitary wasps** and bees. With such a diversity of habitats the whole site supports a good range of birds, butterflies and mosses including rare and uncommon species.
*Coppicing is a traditional form of management where small multi-stemmed trees and shrubs are cut down to the ground at regular intervals producing a harvest of small branches.
**Related to but not the same as the familiar stinging black and yellow species.
Site Code: 50T10
Area: 6.5ha
This site consists of two small valleys on Shotover Hill. The soils are sandy and acidic and the site has acid grassland, which is rare in Oxfordshire and a national priority for nature conservation, along with bracken and gorse scrub. Water spreads over the surface from springs forming wet areas known as flushes. Along the valley bottoms fen habitat is found. This is another rare and national priority habitat. There are also areas of scrub and small areas of oak and birch woodland.
With its variety of habitats the site also has a great variety of wildflowers. Tormentil, heath speedwell and heath bedstraw are typical of acid grassland. The uncommon opposite-leaved golden saxifrage is found along one of the streams. There are bluebells in the woodland and the fen areas have ragged robin, lesser spearwort and bugle. The site is likely to be important for birds.