Districts:
South Oxfordshire Parishes
Chinnor
This map highlights the landscape types within the parish you selected, and its associated local character areas. You can click on any area of the map for a description of its landscape character and biodiversity. Please note that local character areas can cover large areas of the countryside, and may include several parishes, so the description may not be specific to this parish. If there are any wildlife habitats within the parish their descriptions can be found by scrolling to the bottom of this page.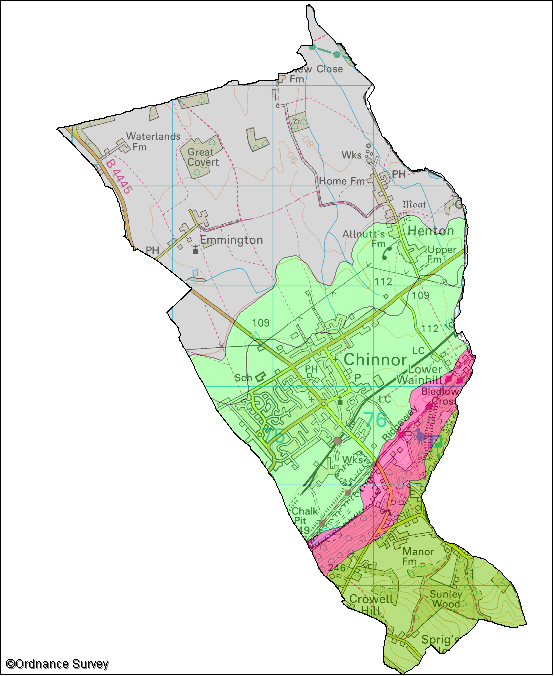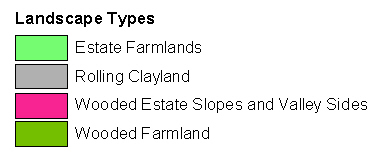 The following wildlife habitats fall within this parish. They are listed according to their associated landscape type or local character area.
If you want more information about any of the sites of special scientific interest (SSSIs) listed below, take a look at English Nature's Nature on the Map website. It may also be possible to find out a bit more about the unnamed wildlife habitats in the parish by contacting the Thames Valley Environmental Records Centre (owls@oxfordshire.gov.uk) and quoting the site code next to the habitat description.
The majority of these wildlife habitats are on private land and access to them is not possible without permission of the landowner, unless there is a statutory right of way. However, many wildlife habitats in the county are open to the public. More information on these can be obtained from the Oxfordshire Nature Conservation Forum.
Wildlife Habitats
Rolling Clayland
Site Code: 70R05
Area: 0.7ha
This site is small area of tall fen habitat with a good mixture of wetland wildflowers found amongst reeds along with wet willow dominated woodland. Both habitats are national priorities for nature conservation.
Wetland wildflowers found here include meadowsweet, water mint, bugle and purple loosestrife. The willow woodland is the more scrubby type known as carr where small willows dominate. There is a small pond in this area. There is also a fringe of drier woodland where the uncommon native black poplar is found. Reed bunting, a bird often associated with tall wetland habitats and a national priority for nature conservation, has been recorded here in the past.

Wooded Estate Slopes and Valley Sides
Site Code: 70Q01
Area: 27.3ha
Chinnor Hill SSSI
Chinnor Hill is situated on northernmost part of the Oxfordshire part of the Chiltern escapement. The steep slopes support areas of chalk grassland and scrub. Chalk grassland is now mainly found on steeper sites such as this and is a national priority for nature conservation. Amongst the scrub is juniper which is a small native conifer associated with sites on the chalk such as this. It is now rare and is also a national nature conservation priority.
The grassland supports a typical high abundance of small colourful wildflowers. These include autumn gentian, pyramidal orchid and frog orchid. Also present is the nationally scarce wild candytuft and uncommon Chiltern gentian. A number of uncommon insects have been recorded here. Butterflies seen here include white admiral, green hairstreak and marbled white.
Site Code: 79P05
Area: 66.1ha
Chinnor Chalk Pit SSSI
Chinnor Chalk Pit is an example of one of a number of quarries in Oxfordshire where important geological exposures have been uncovered as a result of quarrying. Such exposures, and the fossils that are found within them, are important in the understanding of geological history.