Districts:
Cherwell Parishes
Stratton Audley
This map highlights the landscape types within the parish you selected, and its associated local character areas. You can click on any area of the map for a description of its landscape character and biodiversity. Please note that local character areas can cover large areas of the countryside, and may include several parishes, so the description may not be specific to this parish. If there are any wildlife habitats within the parish their descriptions can be found by scrolling to the bottom of this page.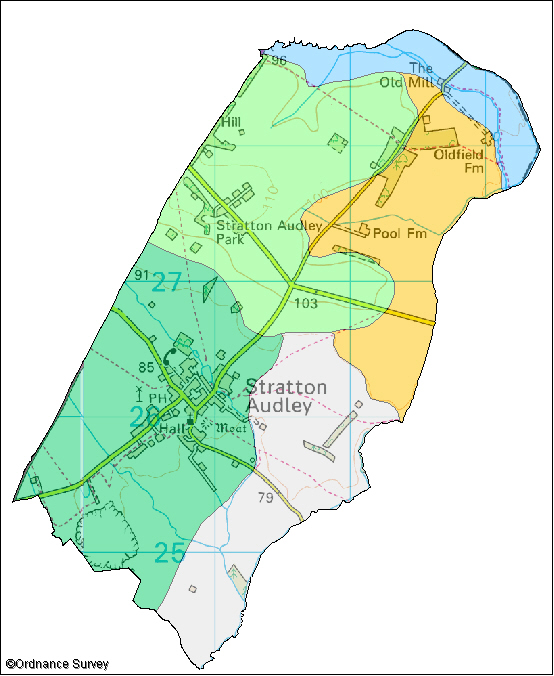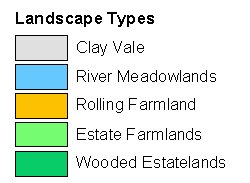 The following wildlife habitats fall within this parish. They are listed according to their associated landscape type or local character area.
If you want more information about any of the sites of special scientific interest (SSSIs) listed below, take a look at English Nature's Nature on the Map website. It may also be possible to find out a bit more about the unnamed wildlife habitats in the parish by contacting the Thames Valley Environmental Records Centre (owls@oxfordshire.gov.uk) and quoting the site code next to the habitat description.
The majority of these wildlife habitats are on private land and access to them is not possible without permission of the landowner, unless there is a statutory right of way. However, many wildlife habitats in the county are open to the public. More information on these can be obtained from the Oxfordshire Nature Conservation Forum.
Wildlife Habitats
Rolling Farmland
Site Code: 62J02
Area: 10.8ha
This site is an area of ancient woodland and more recent plantation. It has remnants of old broadleaved woodland which is a national priority for nature conservation. The eastern section is ancient woodland which means that it has been continuously wooded since 1600AD. However most of this area has been replanted partly with conifers and partly with a mixture of oak and ash. The northern section has many mature oaks that were planted many decades ago.
The southern plantation retains the greatest variety of woodland wildflowers. There are many bluebells and early purple orchid and broadleaved helleborine have been seen here. The more mature oak woodland has much bramble covering the ground and is quite wet with a lot of rushes and sedges. There is also a thin strip of oak and birch next to the conifer plantation. The dark conifer plantation lacks typical woodland wildflowers.
The western section is not ancient. It has been planted with a mixture of oak and larch.
Wooded Estatelands
Site Code: 62C01
Area: 32.5ha
When this site was first selected as a County Wildlife Site it was a disused quarry. Since then the larger northern section has been re-excavated for limestone and partly infilled which has changed its character.
On the thin soils of the quarry working limestone grassland plants have established including bee and common spotted orchids, kidney vetch, common centaury and the rare slender bird's-foot trefoil. There is a strip of limestone grassland at the eastern edge of this area with the colourful greater knapweed and field scabious. Limestone grassland is a national priority for nature conservation. The southern area includes a small pit that is used for fishing.
Before re-excavation the site had shallow marshy areas and supported a good range of insects. Little of this habitat remains although there are some small ditches in the north western corner.
Site Code: 62C02/1
Area: 8.7ha
Stratton Audley Quarries SSSI
Stratton Audley Quarries is one of a number of quarries in Oxfordshire where there are fossil rich rock exposures that are important in the understanding of geological history. Here there are exposures of Jurassic White Limestone, Forest Marble and Lower Cornbrash rocks.