Districts:
Cherwell Parishes
Shipton-on-Cherwell and Thrupp
This map highlights the landscape types within the parish you selected, and its associated local character areas. You can click on any area of the map for a description of its landscape character and biodiversity. Please note that local character areas can cover large areas of the countryside, and may include several parishes, so the description may not be specific to this parish. If there are any wildlife habitats within the parish their descriptions can be found by scrolling to the bottom of this page.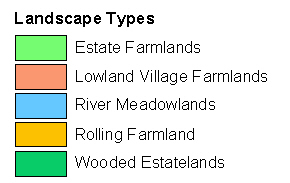 The following wildlife habitats fall within this parish. They are listed according to their associated landscape type or local character area.
If you want more information about any of the sites of special scientific interest (SSSIs) listed below, take a look at English Nature's Nature on the Map website. It may also be possible to find out a bit more about the unnamed wildlife habitats in the parish by contacting the Thames Valley Environmental Records Centre (owls@oxfordshire.gov.uk) and quoting the site code next to the habitat description.
The majority of these wildlife habitats are on private land and access to them is not possible without permission of the landowner, unless there is a statutory right of way. However, many wildlife habitats in the county are open to the public. More information on these can be obtained from the Oxfordshire Nature Conservation Forum.
Wildlife Habitats
Estate Farmlands
Site Code: 41T06
Grid Ref: SP475175
Area: 62.6
This site is a large disused limestone quarry. Disused quarries often support habitats which are rare in the surrounding farmed countryside and this is an outstanding example. In the quarry bottom spring fed shallow pools and marshy habitat has developed. There are areas of limestone grassland and wildflowers have colonised the exposed limestone surfaces in abundance. These habitats are national priorities for nature conservation. There are also areas of scrub at the top of the quarry faces.
The quarry is particularly important for birds and has one of the richest diversity of nesting species in Oxfordshire. These include turtle dove, which is a national priority species due to the rapid decline in its UK population. Terns and little ringed plover nest on islands amongst the pools. Recently ravens have attempted to nest here which would have been the first time in Oxfordshire since the mid 19th century.
Grassland wildflowers found here include the uncommon wild liquorice. In the marshy areas marsh orchids can be seen while the uncommon mare's-tail is found in the pools. Butterflies present include marbled white and small heath. A number of nationally scare insects have been recorded here including the blue-tailed and white-legged damselflies.