Districts:
Cherwell Parishes
Kirtlington
This map highlights the landscape types within the parish you selected, and its associated local character areas. You can click on any area of the map for a description of its landscape character and biodiversity. Please note that local character areas can cover large areas of the countryside, and may include several parishes, so the description may not be specific to this parish. If there are any wildlife habitats within the parish their descriptions can be found by scrolling to the bottom of this page.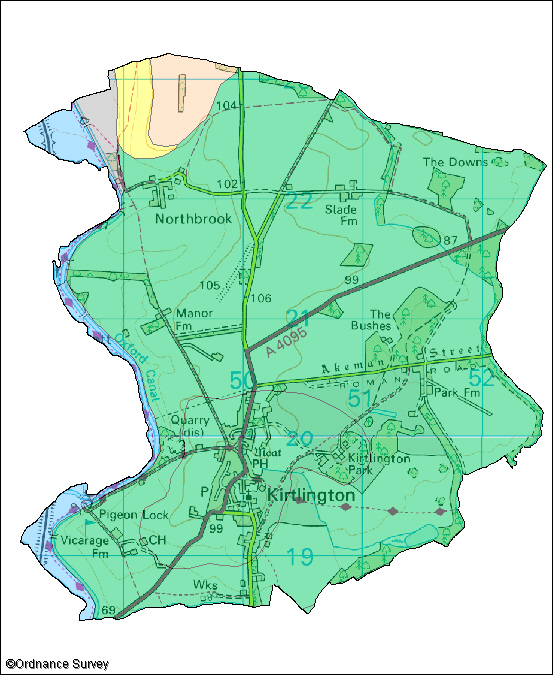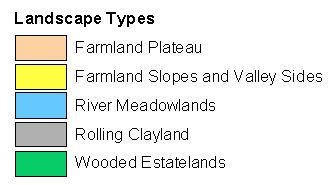 The following wildlife habitats fall within this parish. They are listed according to their associated landscape type or local character area.
If you want more information about any of the sites of special scientific interest (SSSIs) listed below, take a look at English Nature's Nature on the Map website. It may also be possible to find out a bit more about the unnamed wildlife habitats in the parish by contacting the Thames Valley Environmental Records Centre (owls@oxfordshire.gov.uk) and quoting the site code next to the habitat description.
The majority of these wildlife habitats are on private land and access to them is not possible without permission of the landowner, unless there is a statutory right of way. However, many wildlife habitats in the county are open to the public. More information on these can be obtained from the Oxfordshire Nature Conservation Forum.
Wildlife Habitats
River Meadowlands
Site Code: 42X07/2
Area: 6.3ha
This site has extensive areas of tall wetland vegetation including one of the largest areas dominated by tall sedges in Oxfordshire. This habitat is a national nature conservation priority. The northern fields are drier with much willowherb. The site also has areas of willow woodland and lines of willow pollards.
The site is particularly important for birds including reed bunting, a national priority species, and reed warbler while bullfinch, song thrush and a variety of warblers are found in the woodland and hedges. Water vole is present in the nearby Oxford Canal and the marsh will be an important refuge for this national priority species which has declined in numbers very significantly recently. A number of tall colourful wetland wildflowers can be seen here. These include the yellow flag iris, purple loosestrife, meadowsweet and common valerian. Marsh marigold is also present.
Wooded Estatelands
Site Code: 41Z09
Area: 3.3ha
Kirtlington Quarry SSSI
Kirtlington Quarry is one of a number of quarries in Oxfordshire where there are exposures of fossil rich rocks which are important in the understanding of geological history. This is one of only five sites worldwide where fossils of mammals from the Jurassic period have been found. Fossils of crocodiles and dinosaurs have also been found.
Kirtlington Quarry is also a Local Nature Reserve along with the woodland to the west. The quarry has are areas of limestone grassland as well as scrub and woodland. Limestone grassland is a national priority for nature conservation. Disused quarries are one of the main places where this habitat can still be seen.
Site Code: 52A01/3
Area: 1.4ha
This small lake was selected as County Wildlife Site due the presence of a rich variety of aquatic plants and the presence of rich marshy areas where marsh orchids and other wetland plants were found. Such habitats are national nature conservation priorities. There were also grassy areas with shrubs near the edge where other orchids grew. However there are indications that work on the lake has meant much of this habitat has been lost and the current status of this site is unclear.
Site Code: 52A01/4
Area: 5.2ha
This lake is special because at the west end there is a large area of reedbed habitat, which is dominated by common reed, along with wet willow woodland. Both these habitats are rare in Oxfordshire and are a national priority for nature conservation. Reedbeds are usually important sites for birds.