Districts:
Cherwell Parishes
Kidlington
This map highlights the landscape types within the parish you selected, and its associated local character areas. You can click on any area of the map for a description of its landscape character and biodiversity. Please note that local character areas can cover large areas of the countryside, and may include several parishes, so the description may not be specific to this parish. If there are any wildlife habitats within the parish their descriptions can be found by scrolling to the bottom of this page.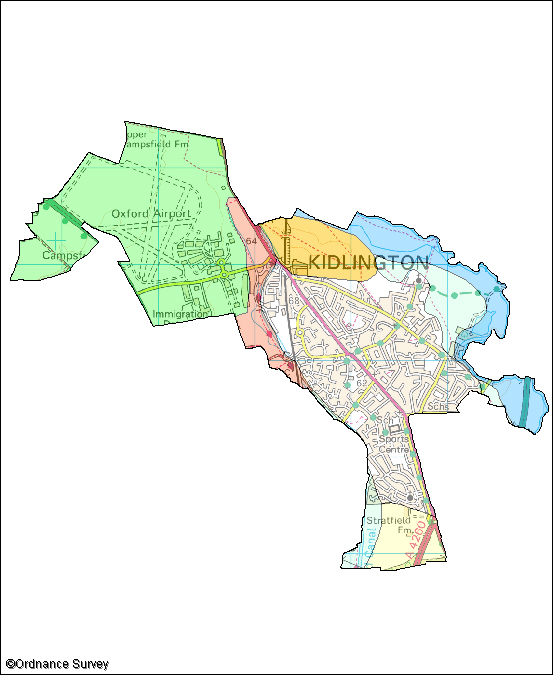 The following wildlife habitats fall within this parish. They are listed according to their associated landscape type or local character area.
If you want more information about any of the sites of special scientific interest (SSSIs) listed below, take a look at English Nature's Nature on the Map website. It may also be possible to find out a bit more about the unnamed wildlife habitats in the parish by contacting the Thames Valley Environmental Records Centre (owls@oxfordshire.gov.uk) and quoting the site code next to the habitat description.
The majority of these wildlife habitats are on private land and access to them is not possible without permission of the landowner, unless there is a statutory right of way. However, many wildlife habitats in the county are open to the public. More information on these can be obtained from the Oxfordshire Nature Conservation Forum.
Wildlife Habitats
Lowland Village Farmlands
Site Code: 41X01
Area: 8.7ha
Rushy Meadows SSSI
Rushy Meadows are a group of canalside meadows at Kidlington. They have escaped agricultural improvement through ploughing and reseeding or through the use of fertilizers and herbicides. Consequently Rushy Meadows has a rich variety of grassland wildflowers. They are wet and in places tall wetland vegetation with reeds and tall sedges has developed. Meadows such as this are a national priority for conservation.
Wildflowers that can be seen here include water avens, betony, pepper saxifrage and devil's-bit scabious. There are many wetland plants as well including marsh valerian and marsh orchids as well as a variety of sedges and rushes. Species rich hedgerows divide the meadows.
Site Code: 41S02
Area: 10.8 ha
This site is a wet field that supports neutral grassland that has not been treated fertilizers or herbicides and thus retains a varied range of plants. This type of lowland meadow habitat is of national importance for nature conservation. The field is wet and has many clumps of rush and areas with tall willowherb. Wildflowers that can be seen here include southern marsh orchid and the colourful marsh marigold and ragged robin. There is a spring fed pond in the field.
The meadow is particularly important for birds. Reed buntings nest in the taller vegetation. Bullfinch and song thrush are also found here. These birds are national priorities for conservation. Kingfishers have been seen visiting the pond and sedge warblers also nest in the meadow.
River Meadowlands
Site Code: 42X07/4
Area: 107.3ha
This extensive area of land next to the River Cherwell at Kidlington has a variety of habitats and is particularly important for birds. At the south end there are meadows which have at least partly escaped agricultural improvement through the use of herbicide and fertilizers or through ploughing and reseeding. Consequently a variety of grassland wildflowers are found here including the uncommon water avens and meadow saxifrage. There is a reedbed, small area of wet woodland and a lake at the southern end as well. Further north is a large are of recently planted woodland that is accessible to the public. The meadows, reedbed and wet woodland are national priority habitats for nature conservation.
Near the church is the Kidlington Parish Nature Reserve of St Mary's Fields where scrub habitat is carefully managed for birds. Scrub is recognised as an important habitat in the Cherwell Biodiversity Action Plan. Song thrush and bullfinch nest here. Both are national priority species due to the rapid decline in their populations. Cuckoo, which is classed as a bird of conservation concern for similar reasons is also present. Sedge and reed warblers are found in the reed bed and the rare bittern occasionally visits this area.

Vale Farmland
Name: Site Code: 41V21
Area: 4.5ha
Stratfield Brake
Stratfield Brake is an area of old long established woodland to the south of Kidlington. It has a canopy of oak and ash trees with a shrub layer of hawthorn, blackthorn and elder. Such woodland is national nature conservation priority. Woodland wildflowers found here include bluebell, foxglove and violets.
The larger western area is now managed as a nature reserve by the Woodland Trust in co-operation with local people and has been extended by new planting to the north. In addition wetland habitat and shallow pools has been created next to the canal to provide an attractive area for birds and aquatic invertebrates.