Districts:
Cherwell Parishes
Gosford and Water Eaton
This map highlights the landscape types within the parish you selected, and its associated local character areas. You can click on any area of the map for a description of its landscape character and biodiversity. Please note that local character areas can cover large areas of the countryside, and may include several parishes, so the description may not be specific to this parish. If there are any wildlife habitats within the parish their descriptions can be found by scrolling to the bottom of this page.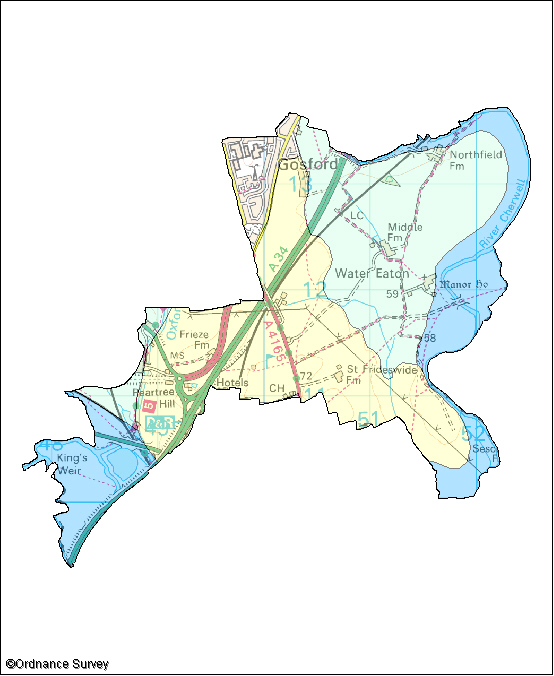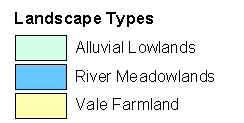 The following wildlife habitats fall within this parish. They are listed according to their associated landscape type or local character area.
If you want more information about any of the sites of special scientific interest (SSSIs) listed below, take a look at English Nature's Nature on the Map website. It may also be possible to find out a bit more about the unnamed wildlife habitats in the parish by contacting the Thames Valley Environmental Records Centre (owls@oxfordshire.gov.uk) and quoting the site code next to the habitat description.
The majority of these wildlife habitats are on private land and access to them is not possible without permission of the landowner, unless there is a statutory right of way. However, many wildlife habitats in the county are open to the public. More information on these can be obtained from the Oxfordshire Nature Conservation Forum.
Wildlife Habitats
Alluvial Lowlands
Site Code: 41V02
Area: 1.2 ha
These wet meadows have escaped the use of fertilizers and herbicides and thus supports flower rich grassland with many sedges and rushes. This habitat is a national priority for nature conservation.
The southern edge borders a reedbed and reeds are present at the edge. Here the rare marsh stitchwort is found. Wildflowers that can be seen here include ragged robin, marsh marigold, cuckooflower, creeping jenny and greater bird's-foot trefoil. In 1987 the nationally rare river water-dropwort was seen here and a nationally rare beetle was recorded in 2000.
Site Code: 41V13
Area: 2.5 ha
This site is a large pond next to the Oxford Canal. At the northern end is an area of common reed, which forms a habitat called reedbed. On larger sites, such as those in the Norfolk Broads, it is traditionally cut to provide thatching materials. In the United Kingdom it is recognised as a habitat needing urgent and priority action.
Reedbeds are good places for birds and here reed warblers, sedge warblers and reed buntings are found. The elusive and skulking water rail has been seen in some years and nightingale has nested here in the past. These are all species of conservation concern, which are either rare or declining in numbers. Reed bunting is a particularly high priority.
The pond itself is used for fishing. It is fringed by willows and has a range of colourful wildflowers at the waters edge. Dragonflies and damselflies are a common sight amongst the vegetation at the edge and hunting over the water.

River Meadowlands
Site Code: 41V01
Area: 85.6ha
Pixey and Yarnton Meads SSSI
Pixey and Yarnton Meads are one of the best examples of flower rich meadows in lowland England. They have a long history and have been managed for hay for over a thousand years. They are the lot meadows for Yarnton. The area a person who had rights to cut hay here was established each year by the drawing of lots.
The meadows have a superb range of meadowland wildflowers which are present in high abundance. In early spring there is a glorious display of cowslips followed by a colourful show from great burnet, oxeye daisy, common knapweed, green-winged orchids, dropwort, yellow rattle and many other wildflowers. Ragged robin, marsh orchids and marsh marigold are found in the wetter areas. Meadows such as this are a national priority for nature conservation.
Skylarks, which have shown a rapid decline in numbers nationally and are thus a national priority species, and curlew nest here.