Districts:
Cherwell Parishes
Fencott and Murcott
This map highlights the landscape types within the parish you selected, and its associated local character areas. You can click on any area of the map for a description of its landscape character and biodiversity. Please note that local character areas can cover large areas of the countryside, and may include several parishes, so the description may not be specific to this parish. If there are any wildlife habitats within the parish their descriptions can be found by scrolling to the bottom of this page.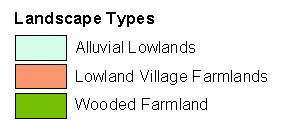 The following wildlife habitats fall within this parish. They are listed according to their associated landscape type or local character area.
If you want more information about any of the sites of special scientific interest (SSSIs) listed below, take a look at English Nature's Nature on the Map website. It may also be possible to find out a bit more about the unnamed wildlife habitats in the parish by contacting the Thames Valley Environmental Records Centre (owls@oxfordshire.gov.uk) and quoting the site code next to the habitat description.
The majority of these wildlife habitats are on private land and access to them is not possible without permission of the landowner, unless there is a statutory right of way. However, many wildlife habitats in the county are open to the public. More information on these can be obtained from the Oxfordshire Nature Conservation Forum.
Wildlife Habitats
Alluvial Lowlands
Site Code: 51S01/2
Area: 211.6ha
Otmoor SSSI
Otmoor is a low lying area lying located in the valley of the River Ray. Since the 1960s large parts of Otmoor were drained and converted to arable farmland. The remaining undrained area is an extensive wet grazing marsh. Part of the site is an MOD rifle range. The range itself is managed as hay meadow and is very rich in grassland wildflowers. Further areas of rich grassland are found south of the rifle range. These habitats are national nature conservation priorities. Other habitats include ponds, shallow pools of standing water, ditches, scrub, hedgerows and a small area of woodland.
The grazing marsh has a mixture of tussocky wet grassland and patches of sedges and rushes. This habitat is particularly important for wading birds including snipe, lapwing, curlew and redshank all of which have declined in numbers in lowland England. The site is very wet and in the winter it floods. Some areas of water remain for most of the year. This attracts good numbers of wildfowl that winter in the UK. The RSPB have now purchased large areas of previously drained land outside the SSSI which is being restored to this type of habitat along with reedbeds. Numbers of many of these birds are rapidly increasing to levels of national importance.
Otmoor supports many rare and uncommon invertebrates including the black hairstreak butterfly which is associated with blackthorn thickets. Amongst the great variety of wildflowers the very rare fen violet has been seen here. The central pool known as the Pill has an exceptionally fine display of water violet.
Site Code: 51S01/6
Area: 10.4ha
This meadow lies at the eastern edge of Otmoor. The meadow supports wet grassland that is used for cattle grazing. Typically for such grassland where grazing is not especially intensive and the field has not been ploughed and reseeded there are large grass tussocks, rushes and wildflowers that prefer wet conditions. Such grassland is a national priority for nature conservation.
Wildflowers seen here include ragged robin, marsh bedstraw and meadowsweet. Such habitat is important for wading birds and there are records of snipe and lapwing in this meadow. The RSPB are now recreating extensive areas of similar wet grassland and grazing marsh over large areas of Otmoor.
Site Code: 51S01/5
Area: 0.76ha
This small hay meadow, which lies in the northern part of Otmoor, is part of the checkerboard landscape of small fields that inspired Lewis Carroll's Alice Through the Looking Glass. The meadow has many wildflowers including great burnet and the colourful knapweed, oxeye daisy and cuckooflower. Meadows such as this are a national priority for nature conservation.
The meadow also has a small seasonal pond where wetland species are found. The tall thick hedgerows attract good numbers of songbirds including chiffchaff.
Site Code: 51S01/4
Area: 14.8 ha
This site lies next to the wet grassland and marsh of Otmoor and it is a valuable addition to those important habitats. This field has not been treated with artificial fertilizers or herbicides or ploughed and reseeded and thus retains a varied meadow flora. This habitat is a national nature conservation priority.
Unlike Otmoor this field is cut for hay and then grazed in the autumn and winter but like Otmoor it is quite a wet field. This means a lot of species associated with wetter grasslands and marsh are present. This includes an abundance of small sedges and rushes. A variety of wildflowers are present including sneezewort, cuckooflower, ragged robin and marsh bedstraw. The uncommon spineless meadow thistle is present. There is a pond on the western edge where yellow flag iris and corn mint can be seen. Curlew and skylark nest in the field. Skylark is a national priority for nature conservation due to the national decline in their numbers. Curlew is classed as a species of conservation concern for similar reasons.
Site Code: 51S01/3
Area: 2.3 ha
These two meadows are part of the checkerboard landscape of small fields found at the north end of Otmoor that is said to have inspired Lewis Carrol's Alice Through the Looking Glass.
These meadows have not been treated with fertilizers or herbicides and so retain a rich meadowland flora. This type of grassland is a national priority for nature conservation. There is a good variety of wildflowers in the fields including green winged orchids, devil's-bit scabious, yellow rattle and meadow rue. There is a seasonal pond in one field and there are good thick hedges of hawthorn, blackthorn, willows and oak. There are also wetter hollows where tubular water-dropwort is very abundant.
Site Code: 51S28
Area: 0.7ha
This small hay meadow has escaped agricultural improvement through the use of herbicides and fertilizers or through ploughing and reseeding. Consequently it is rich in wildflowers. It has ridges and furrows that are a sign of medieval ploughing but also a sign that it has been left undisturbed since then. Meadows such as this are a national priority for nature conservation.
Amongst the wildflowers found here are large numbers of green-winged orchids. The tall thick hedgerows attract a good variety of birds including bullfinch, which a national priority species due to the rapid decline in its UK population. The uncommon brown hairstreak butterfly has also been found in the hedges and a nationally scarce hoverfly has been recorded in the meadow.