Districts:
Cherwell Parishes
Bletchingdon
This map highlights the landscape types within the parish you selected, and its associated local character areas. You can click on any area of the map for a description of its landscape character and biodiversity. Please note that local character areas can cover large areas of the countryside, and may include several parishes, so the description may not be specific to this parish. If there are any wildlife habitats within the parish their descriptions can be found by scrolling to the bottom of this page.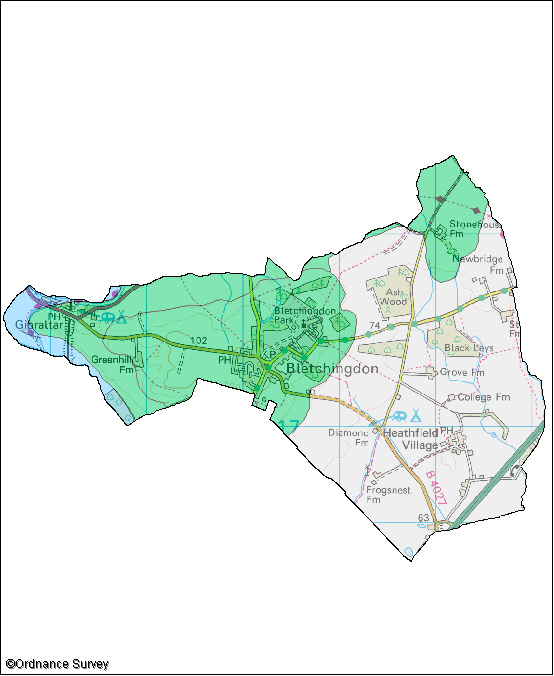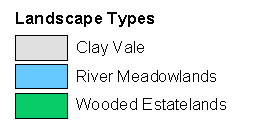 The following wildlife habitats fall within this parish. They are listed according to their associated landscape type or local character area.
If you want more information about any of the sites of special scientific interest (SSSIs) listed below, take a look at English Nature's Nature on the Map website. It may also be possible to find out a bit more about the unnamed wildlife habitats in the parish by contacting the Thames Valley Environmental Records Centre (owls@oxfordshire.gov.uk) and quoting the site code next to the habitat description.
The majority of these wildlife habitats are on private land and access to them is not possible without permission of the landowner, unless there is a statutory right of way. However, many wildlife habitats in the county are open to the public. More information on these can be obtained from the Oxfordshire Nature Conservation Forum.
Wildlife Habitats
Clay Vale
Site Code: 51I02
Area: 13 ha
This site is another of a group of ancient woodland sites. Ancient woodlands are those which have been continuously wooded since at least 1600AD. The composition is typical for old woodland. There is a canopy of ash and oak with some field maple with some hazel coppice below. Broadleaved woodland such as this is a national nature conservation priority.
On the ground there is a mixture of wildflowers including many bluebells. Other wildflowers present include primrose, early purple orchid and pignut. In places the soils are acidic and foxglove and gorse are found in these areas.
Site Code: 51D06
Area: 3.6ha
Bletchingdon Verge East
This is the larger of two verge sites near Bletchingdon where the nationally scarce black hairstreak butterfly is found. The foodplant for black hairstreak is blackthorn and there is much blackthorn scrub here. There are also oak, ash and field maple trees, a pond and rough grassland on the verge.
A number of other butterflies have been recorded here in the past including purple hairstreak, white letter hairstreak and marbled white. The site is also good for birds. Bullfinch, a national priority species due to the rapid decline in its population, is found here.
Site Code: 51E04/2
Area: 17.6 ha
This site is ancient woodland site which means it has been continuously wooded since at least 1600AD. Part of the wood a canopy of oak and ash and part has been replanted with a variety of trees. On the ground there is a carpet of dog's mercury which is typical of old woodland. Broadleaved woodland, especially ancient woodland, is a national priority for nature conservation.
Woodland wildflowers present here include early purple orchid, wood anemone, primrose and sanicle. The rare hard shield fern is present. In the wetter areas the colourful ragged robin and cuckooflower can be seen. Butterflies seen here include the uncommon purple emperor.
River Meadowlands
Site Code: 41Y03
Area: 7 ha
This site is a disused quarry and, like many of the old disused quarries in Oxfordshire, it supports remnants a range of important habitats.
The quarry was used to extract limestone. In the undisturbed areas, on the steeper slopes and edges, limestone grassland is present. This habitat is a national priority for nature conservation. Wildflowers that can be seen here include pyramidal orchid, hairy violet, salad burnet and the unusual fern grass. These areas support a number of rare insects, snails and spiders.
Close to the River Cherwell, beyond a bank of woodland, is an area of wetland habitat. Reed-grass and large sedges form an area of swamp, which is uncommon in Oxfordshire, and a priority for nature conservation. This area is particularly good for birds. Sedge warbler, reed warbler, grasshopper warbler, goldfinch, blackcap and garden warbler are all present. Wetland wildflowers found here include water mint, meadowsweet and meadow rue.