Districts:
Cherwell Parishes
Banbury
This map highlights the landscape types within the parish you selected, and its associated local character areas. You can click on any area of the map for a description of its landscape character and biodiversity. Please note that local character areas can cover large areas of the countryside, and may include several parishes, so the description may not be specific to this parish. If there are any wildlife habitats within the parish their descriptions can be found by scrolling to the bottom of this page.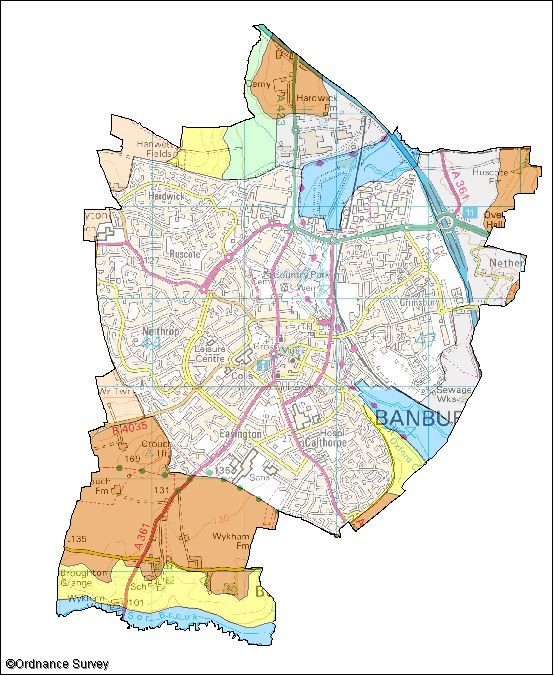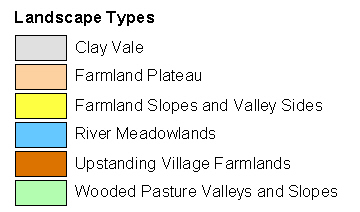 The following wildlife habitats fall within this parish. They are listed according to their associated landscape type or local character area.
If you want more information about any of the sites of special scientific interest (SSSIs) listed below, take a look at English Nature's Nature on the Map website. It may also be possible to find out a bit more about the unnamed wildlife habitats in the parish by contacting the Thames Valley Environmental Records Centre (owls@oxfordshire.gov.uk) and quoting the site code next to the habitat description.
The majority of these wildlife habitats are on private land and access to them is not possible without permission of the landowner, unless there is a statutory right of way. However, many wildlife habitats in the county are open to the public. More information on these can be obtained from the Oxfordshire Nature Conservation Forum.
Wildlife Habitats
Upstanding Village Farmlands

Site Code: 43P01
Area: 4.2ha
The Saltway
The Saltway is an ancient trackway running along the southern edge of Banbury. It is called a saltway because in Roman times it was important for transporting salt. The hedge-lined track has verges of rough grassland.
The site supports a good range of generally common butterflies although the uncommon white-letter hairstreak is present. This butterfly requires elm and declined greatly in numbers when elm trees were lost to Dutch elm disease. There is much small suckering elm along the Saltway.

Site Code: 44F03
Area: 1.5ha
Neithrop Fields Cutting SSSI
This cutting along a disused railway is important for its geology due to the exposures of rocks and the fossils contained within them. These play a key role in the understanding of geological history. The exposure here is an outstanding section of Middle and Upper Lias including the ironstone. Ironstone has been quarried in North Oxfordshire and gives the villages in the area their distinctive appearance.